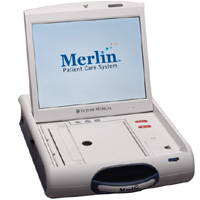 IBM announced that they've developed a portable programmer for implantable heart devices for St Jude. The system, called the Merlin Patient Care System, provides a better workflow and more memory - and I'll bet a much lower cost of goods. Here's a summary of the features:
A new user interface that makes the entire system faster to learn
and use. This interface, which is currently available for pacemakers
and is expected to be available for ICDs later this year, mimics the
natural workflow of a clinic to make it easier for clinicians to
operate.
Enhanced presentation of diagnostics, which consolidate and display
patient information so clinicians can make faster decisions.
State-of-the-art hardware, including a powerful Intel Pentium M
processor, an expanded disk and flexible options for future upgrades.
The hardware increases speed and consumes less energy, allowing the
system to weigh less, thereby making it easier for physicians and
nurses to carry and store.
The industry's first session summary screen, which shows a summary
of tests performed during a pacemaker patient's follow-up exam, and
shows a comparison between presenting settings and currently programmed
settings. This feature also is expected to be available for ICD
patients later this year.
Monitoring will be able to be conducted remotely and programming, once a difficult and time-consuming process, may become routine.

This is an interesting product for a number of reasons. First, it appears that the Merlin is based on a commodity PC platform - the Pentium M processor is the giveaway. Traditionally, medical devices have been embedded systems made up of custom designed hardware and software. The medical device market is ripe for this type of commoditization. By using an off the shelf hardware design St Jude realized a shorter time to market (which means a lower R&D cost) and a greater factory margin (due to lower COGs). Here's a hint on how IBM and St Jude worked together:
As
part of a seven-year agreement between the two companies, IBM worked
with St. Jude to develop a new system that better incorporates
clinician work flow and speeds up the process of delivering care
without compromising patient health.
IBM has been slowly working the medical device outsourcing market for some time. In addition to St Jude, IBMs done R&D outsourcing work for Medtronic and others.
One IBM collaboration with the Mayo Clinic yielded a portable MRI
device after just eight months, much shorter than the typical
turnaround of almost two years. [More
here
]
IBM also worked with Bang & Olufsen Medicom to develop a wireless
pill counter that informs both patients and doctors of medicines that
need to be taken and tracks medications that have been taken.
Additionally, the company partnered with Medtronic to design a
pacemaker monitor and programmer.
I expect to see more future products leverage commoditized computing power and outsourced R&D - especially for connectivity. Pictured right is the new Merlin programmer - sort of looks like a laptop doesn't it?