This year's connectivity conference is scheduled for September 8-9 at the Joseph B. Martin Conference Center at Harvard Medical School in Boston. This is the same location as the inaugural conference in 2009, and was a great venue for both general sessions and break-out tracks. Exhibitor's booths line the wide walk ways that lead to the conference rooms, rather than a separate lobby (or tent as we had in San Diego in 2010).
I'm already working to line up speakers – if you've got a topic to suggest, or want to present yourself, let me know.
The focus of this year's conference may extend a bit beyond the acute care (hospital) market into ambulatory settings (patient's homes and use in daily life). Now there are already several conferences on connectivity in ambulatory markets (Healthcare Unbound, mHealth Summit, Connected Health Symposium), but they focus little on specific connectivity issues.
Conference topics typically come from recent and current issues that crop up  in my consulting practice, and buzz in the industry (which is where you come in). Here are some of the topics that are being considered for this year's conference:
Read More
This week I'm at the mHealth Summit, an event bringing together research (academic), technology (business), and policy (NGOs and government). On Tuesday (November 9) I'll be on the panel, Validation and Practical Deployment of Wireless Health, at 11:30 (Room 102 A & B). I'll be touching on the differences between verification and validation testing, and the challenges of simulated validation testing. The panel will be discussing what constitutes sufficient objective evidence for validation testing and different approaches to validation from both a technical, clinical and business perspectives.
The event is just kicking off as I'm writing this (loud techno music before the speakers come up to the podium). Focus is squarely on wireless broadband (cell phones) offering ubiquitous connectivity.  Applications discussed provide education, diagnostics, therapy delivery and monitoring.
The Twitter hash for this conference is #mhs10. The opening keynote is being held in a full ballroom at the Washington DC Convention Center. There are an estimated couple thousand attendees– I'll provide an official number later.
Read More
There is a FDA (CDRH) Workshop on Medical Device Interoperability scheduled for January 25 – 27 at the FDA's White Oak Campus in Silver Springs, MD. Here's a link to the meeting's official web site, which includes a number of downloadable files on the agenda, meeting logistics and background.
There is little question the workflow automation and intelligence offered by interconnecting medical devices can improve patient safety. There's also little doubt that there is significant market demand for such solutions.  For example, if hospitals could purchase PCA pumps and SpO2 monitors that were interoperable, i.e., the monitor could suspend drug delivery at the first indication of respiratory arrest, such a capability would quickly become a standard of care. Interoperability is a huge opportunity.
There is no doubt that there are unintended — and in some respects, unregulated by the FDA — systems of systems made up of medical devices  sold and in use by health care providers. At the most basic level, there are medical devices with serial ports that were never intended to provide connectivity (or Medical Device Data Systems as the FDA called them in a draft rule issued almost 2 years ago). At the other extreme, you have systems like closed loop infusion therapy delivery, made up of components that are both regulated and unregulated, and that were originally developed with little or no thought to the demands of interoperability. This is a problem.
The FDA's been interested in this area for some time. Way back in 2005, the FDA held a workgroup to discuss the system of systems issue regarding networked medical devices (see the blog posts here, here and here).  The outgrowth of this meeting was IEC 80001, which is scheduled to be completed this year. In 2007, the FDA published an excellent draft guidance on wireless medical devices (posts here and here) on how to apply the Quality System regulation to wireless medical devices. (I can't help but wonder why this is still a "draft" guidance.) Also back in 2007, the FDA provided a rather limp statement on interoperability at the 2007 conference on Medical Device Interoperability and High Confidence Software (see the posts in this search). (Offered as the first example of the FDA's interest in interoperability is their dubious buy-in to the questionable patient safety benefits of new medical device unique device identification requirements was not inspiring — more here.)
Read More
The first ever Medical Device Connectivity Conference and Exposition was held September 10 and 11, 2009. The event was at the Joseph B. Martin Conference Center at Harvard Medical School in Boston (what a swanky place!).
The program focused on regulatory changes (the FDA's proposed MDDS rule and the new IEC 80001) and industry standards (IHE PCD, HL7, 11073, ICE, 802.11x, etc.) and patient safety. The second day had separate tracks for:
Trends in connectivity infrastructure, like networking, converging hospital IT and Biomed departments, and wireless sensors;
A survey of predominate medical device connectivity applications — EMR documentation, infusion pumps, operating room integration; and
A clinical track looking at why people make and buy connectivity, to improve patient safety and improve outcomes.
There were over 200 attendees at the conference, split about 60/40, manufacturers and health care providers. Among the providers, there was a preponderance of clinical engineers, then came IT folks, and finally clinicians. Manufacturers were mostly senior level product management and engineering people.
There were 9 sponsors for the event: Capsule, Cardiopulmonary Corp., Cerner, Cisco, Fluke Network, Hill-Rom, Medical Connectivity Consulting, Nuvon, and Philips.
I'm proud to note the following supporting organizations, with which many speakers and attendees are affiliated: AAMI, ACCE, ACCE Healthcare Technology Foundation, Mass Technology Leadership Council, the Medical Device Group, and RFID in Healthcare Foundation.
The nature of the conference business is that the first year's always the hardest. The biggest challenge is that, because your conference did not exist last year, no one has budgeted money to sponsor or attend the first year. Under that handicap, we did quite well — which is a testament to both the organizer's acumen (TCBI) and market interest in the topic.
Next year — yes, there will be another event next year — will be bigger and better. Thanks to everyone who participated for helping create a great event. Any comments, observations, critiques and suggestions are welcome — just leave a comment.
Read More
Can you believe it? Connectivity started in the 1980s, and it's taken over 25 years for the first medical device connectivity conference to be held. I am fortunate to be serving as the program chair for the conference, responsible for the topics covered and finding speakers (you can download a program here — pdf). Unlike other conferences that address connectivity as one of many issues, this meeting is all about medical device connectivity. This is the first of what will be an annual meeting delving into connectivity in depth, tracking changes over time.
Here's an overview of the agenda:
Define and frame medical device connectivity for this event
Industry standards
Regulatory issues
"Systems of systems" patient safety issues
A review of the real costs of connectivity
Day two is divided into three tracks:
Infrastructure, especially converging medical device and enterprise networks
Connectivity solutions, a review of the most common connectivity applications (it's not just about EMR integration)
Clinical and workflow impacts of connectivity
Friday afternoon, there are two great post-conference workshops. One workshop delves into Distributed Antenna Systems (DAS), describing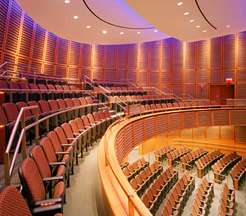 best practices for the selection and implementation of DAS. The second workshop is for providers and manufacturers getting ready for IEC 80001. You are getting ready, aren't you? This workshop details the standard's requirements with special focus on the risk management process that's at the heart of IEC 80001.
The conference well be September 10 and 11 (Thursday and Friday) in Boston, at the Joseph B Martin Conference Center at Harvard Medical School. This is a pretty snazzy venue, as you can see by the photo.
Read More
I'm at the Wireless-Life Sciences Alliance conference, called the Convergence Summit, May 13 and 14. Held at the Estancia La Jolla hotel, today was a full house — standing room only.  A few of us are also Twittering the event; you can search for #wlsa to pull up everyone's posts. You can also see the Summit agenda and prestentors here.
During breakfast, I chatted with Michael Kurgan, CEO of start-up Service Wing Healthcare. They're targeting the wireless gateway market to support body area networks. I mentioned a company I heard about yesterday, GainSpan and Michael had some great perspective on the challenges picking tech winners in immature markets. GainSpan has an ultra low power wireless SOC (system-on-chip) that includes an 802.11b radio and two ARM processors, one for the radio and one to drive whatever device the chip is enabling. In an immature market, just because a component comes from a big company does not mean that their component will have long term success. A much smaller competitor with a better solution may win, or the big company may acquire a better solution in order to be a big player in that market segment.
Rob McCray, chair of the Wireless-Life Sciences Alliance, kicked things off. Camille Sobrian was up next, touting San Diego as the biggest wireless hot spot in the world (perhaps for cellular wireless). She also mentioned the West Wireless Health Institute, and the upcoming TEDMED event. Dr. Paul Jacobs, CEO and chair of Qualcomm passed on introductory remarks and jumped right into things wireless.
Paul noted that what's going on right now is convergence, and it's those who understand both industries that can lead that convergence. He described the new mobile internet experience: networks, devices and applications in the cloud. Multiple air interfaces are a key enabling component. The newest radios are only a few percent more efficient, but they tend to support broader bandwidth to improve network performance. He mentioned a mobile WAN, and various wireless LANs and BANs. A future trend is where applications control the radio to optimize performance for that application.
In Europe, mobile broadband radio dongles for connecting laptops outsell all the 3G phones sold there. Paul defined convergence as the overlapping of computing devices, consumer electronics and wireless tech. Paul alluded to the Amazon Kindle, as a prototypical device for the future, where an embedded system includes a cell phone built in for connectivity. He also highlighted Snapdragon as a platform for mobile data processing, multimedia performance, 3G wireless connectivity and the low power consumption.
Read More