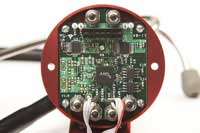 AMI Semiconductor released
a reference design
for a DSP-based electronic stethoscope today. The advantages offered
by this technology includes improved clarity, amplification, and the
ability to store and play back multiple samples. Vendors like
3M/Littmann, Welch Allyn and others may find this reference design of
interest.
After a quick scan of the
technical info
behind the reference design, we find the following features:
DSP that supports user interface, local data
storage/retrieval and software-based signal processing and
analysis
Very low power consumption with "smart"
power management
Platform
connectivity for LCD and wireless (Bluetooth)
Extended product life cycles suitable for embedded medical
devices
Sounds like the makings of a nice wireless sensor
platform, doesn't it?