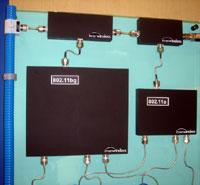 InnerWireless has won the distributed antenna business at Carilion Health System in Virginia (press release). The agreement covers 3 of its 10 facilities and includes 676 bed Roanoke Memorial Hospital.
Carilion will first utilize the Wireless Utility to enhance 802.11 coverage for
existing clinical applications, handheld devices and PDAs, and to improve cellular applications used by the
hospital staff.
Carilion also plans to
use the system to improve two-way radio communication for its security
personnel, implement the use of VoIP phones and pursue RF location solution
options for asset tracking.
In my opinion, InnerWireless' sweet spot is in the distribution of centralized RF systems like cellular carrier microcells, pagers and two-way radios. Given that 802.11 network design is highly dependent on application specific site survey requirements, it is very important to know what you want to get out of your 802.11 WLAN before its designed and deployed. One of InnerWireless' greatest strengths is the RF engineering that goes into the design of their systems - as long as Carilion anticipates all their needs, including capacity, they should be well positioned to leverage all the potential benefits of their investment. They would also be wise to anticipate future adoption of 802.11a, as at least two medical device vendors are developing radios for that band.
Hospitals, being very focused on capital purchases, tend to discount the importance of the services and expertise their vendors can provide. It can be hard to get some hospitals to pay for these important services, but they scrimp on those services at their own peril.
The press release notes that Carilion also wanted to, "leverage their investment in the hospital's existing Cisco network." Rumors have been going around that Cisco refuses to support their WLAN infrastructure that's deployed on a distributed antenna system. Perhaps a reader can confirm or deny this. Also noted in the release is the InnerWireless RFID system. This system leverages their Wireless Utility, but is really a separate system.
Pictured right is a shot of part of InnerWireless' display at HIMSS '06.