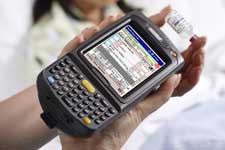 Cardinal Health today announced that they are acquiring Care Fusion. While terms of the deal were not announced, it highlights a number of interesting things going on in the industry. According to some folks I talked to at Cardinal, the purchase is intended to round out barcode validation at point of care, to support EMAR and other core Cardinal offerings.
Care Fusion has raised its profile in the industry lately with a VA contract for installing their system into 170 VA hospitals and 500 outpatient clinics. They're also installed in 50 hospitals - that's 1% of U.S. hospitals.
GE Healthcare must be gnashing their teeth as this appears to be the second time Cardinal Health has beaten them to the punch - the first was Cardinal's purchase of Alaris. GE Healthcare has been distributing Care Fusion for some time as a vital signs monitoring connectivity solution. GE customers who bought new Dynamaps with IrDA infrared data ports to use with Care Fusion might be gnashing their teeth as well.

IntelliDOT who recently won a big Amerinet GPO contract should be encouraged by the acquisition. IntelliDOT just closed a $13 million round of Series C funding, and announced some big sales recently. IntelliDOT is big on electronic meds admin, but lacks data acquisition support. Their proprietary wireless handheld has managed to squeeze 14 hours of battery life (a first!) by cutting all but the most necessary features - this will remain a single-task device until it's replaced by a general purpose point of care device that really works.
Another point of care vendor, Sensitron also thinks the Care Fusion acquisition is driven by meds admin rather than connectivity. Sensitron targets medical device connectivity workflows and EMR integration, using general purpose computing devices (mostly COWs) at the point of care. Sensitron is also getting market traction, Datascope OEMs the Sensitron solution for their vital signs data acquisition - which in old school fashion they did not mention when they announced the feature.
Pictured right is a Care Fusion shot of meds administration.
UPDATE: Rich Kosmala from Datascope sent in the following correction:
I would like to point out an error in your posting
dated October 18th titled "
Cardinal Health to Acquire Care Fusio
n
." The link at the end of this
article points to our Gateway product, which was developed by Datascope and has
nothing to do with Sensitron. The product that uses Sensitron's technology is
the AccuNet, and the link to that press release is
here
.
In addition, our relationship with
Sensitron was issued in a joint statement which can be found at the following
link (here).
Rich, thanks for the correction. I also want to say that I was not suggesting that Datascope was trying to dissemble in not disclosing their relationship with Sensitron in their press release - embedded systems vendors don't usually brag on technology like CPUs or LCD displays they use in their devices. When it comes to connectivity though, there is usually a greater degree of interest on the part of buyers and vendors. The vendor for embedded WiFi radios is commonly disclosed (although not in product release press releases).
Leveraging a third party for connectivity is a big deal and almost always a competitive advantage - both in getting to market and from the buyer's perspective. Unlike the aerospace industry where outsourcing and OEM deals involving high-reliability systems are actively promoted, medical device vendors tend to be shy about these types of relationships. Here's another example from Welch Allyn and their partnering with Wellogic.