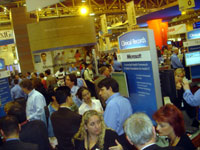 Yesterday's FierceHealthIT had a story about, "the end of proprietary standards." This was an amusing quote in many ways. To my mind, the term "proprietary standard" is an oxymoron, as standards are broadly adopted and available to all comers. The CEO who uttered these momentous words represents a vendor whose principal product strategy uses proprietary technology to lock out competitors and create high changing costs for their customers - and the company that was the target of his ire has pretty much the same product strategy. I don't know which is more ironic, the sudden interest in standards or the pot calling the kettle black. The reason every other high tech industry adopts open standards is that they create a certain level of simplification and commoditization which drives increased market growth and adoption, growing the market for everyone. At least Microsoft has a solid track record in commoditization. Before we dig into the news, let's set some context.
At HIMSS I had a chance to meet with Dr Bill Crounse, Healthcare Industry Director in Microsoft's Health and Life Sciences division (his blog). Microsoft had a clear message they wanted to push out into the market, and Bill lost little time in launching into it. First up, Microsoft's commitment to health care. The health care vertical in Microsoft is 10 years old, and is up to 600 employees in 3 divisions. They've recently added a new Solutions group to do acquisitions.
According to Crounse, Microsoft aims to bring a level of commoditization to health care making IT solutions more affordable and increasing adoption. Their strategy has 3 initiatives. First they will, "add value around the edges by leveraging horizontal solutions for specific applications in health care." Microsoft Office Sharepoint Server and collaboration tools will be the main focus here.
The next initiative is their Connected Health Framework, which proposes a software architecture for interoperability between providers and between providers and payors. This framework lays out a system architecture based on web services that could be a really big deal - Crounse said that Microsoft was making the framework available to anyone, including some open source software to get the ball rolling. To pull this off, Microsoft will have to pour on resources to generate real adoption. They will also have to overcome the suspicions of the open source community, and get the health care industry to let go of their proprietary product strategy security blanket for a more open interoperable approach that will grow the market faster for everyone. This is a very tall order.
Microsoft's final initiative is the Solutions group that will sell vertical market applications directly to providers and payors. They will build this portfolio of solutions through acquisitions. Their first acquisition is Azyxxi who makes an interesting data repository product. The latest acquiree is MedStory, a health care search engine. Future acquisitions will aim at liberating data across the health care ecosystem.
In an interesting aside, Crounse speculated that Windows Vista may be the last operating system bought on CD, suggesting that Microsoft is moving to the software as a service so quickly that the system software business model will be transformed over the next few years.
Enough context, this from the FierceHealthIT story:
While open source camps and Microsoft have always competed for
mindshare in the health IT world, the battle hit a new level of
intensity last week when Microsoft and open source promoters floated
their new proposals for the future of the industry. Last week, for
example, Linux distributor Red Hat announced that it would partner with
McKesson to mount McKesson on Linux and JBoss software. The deal should
give Red Hat--and Linux--an impressive foothold in the health IT
industry overnight, as McKesson is already inside of about 60 percent
of all U.S. hospital networks. And the deal may be more than just
another partnership. As part of the flurry around the new announcement,
the CTO of McKesson's health IT group, McKesson Provider Technologies,
[Michael Simpson] has said that "proprietary standards are over."
McKesson's health care IT group did $1.6 billion in revenue last year. Here are some details from Information Week:
Red Hat, the largest business Linux distributor, is teaming up with the
health care sector's largest company, McKesson, an $88 billion-a-year
pharmaceutical and IT supplier. Red Hat will provide a core of Linux
and JBoss software geared to run McKesson's clinical applications.
[...]
Red Hat rarely takes an industry-specific approach like it is in health
care; telecom is the only other industry it has tackled with similar
focus. Beyond Linux, McKesson will help Red Hat's JBoss application server arm develop an enterprise service bus, which would make it easier to manage data exchanges among health care applications.
Telecommunications was another industry that was slow to abandon proprietary product strategies. In many respects the health care industry - both health care IT and medical devices - are ripe for disruptive technologies. Over the years vendors have built up proprietary closed solutions, and industry consolidation has put much market clout into the hands of a relatively small number of vendors - who have their hands full integrating their acquired products and refreshing their product lines. Small start-ups are the principal source of innovation in health care today; they succeed by meeting long-standing market requirements that the big boys can't be bothered to address. I mean why bother, until someone else takes the first step and generates some meaningful adoption? Certainly the titans of the industry are content to rearrange the deck chairs tweak existing products and wrestle over a few points of market share from year to year. Standards - proprietary or otherwise - will set off a tsunami of innovation and nimble new competitors, something to be avoided at all costs.
Pictured right is Microsoft's booth at HIMSS. They packed their booth with gobs of partners; there was hardly any room for attendees but the booth always looked full.