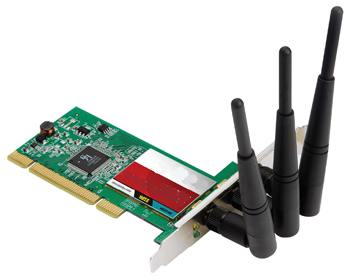 Because it promises throughput as much as 10 times greater than that available with current Wi-Fi® standards, the forthcoming IEEE 802.11n standard is generating tremendous interest among users of wireless LAN (WLAN) products. 802.11n throughput rivals that of Ethernet, and so availability of 802.11n may cause some organizations to use WLANs as the primary means of network access for typical computer users.
Although the 802.11n standard will not be finalized and ratified until 2009, it is easy to find laptops, home routers, and other products with radios that are based on a draft of the standard. The Wi-Fi Alliance, an industry association, is performing product interoperability testing and certification based on the draft standard. Should makers of medical devices be racing to add 802.11n to their devices?
Probably not. 802.11n certainly offers benefits to medical devices, even though these devices don't need a major throughput boost. The non-throughput benefits of 802.11n, such as improved predictability of coverage and slightly greater range, are attractive to all mobile devices that require a reliable WLAN connection in an environment that presents connectivity challenges, such as a hospital. The good news is that, when the WLAN infrastructure supports 802.11n, all Wi-Fi client devices, including those without 802.11n radios, realize these non-throughput benefits. In other words, adding 802.11n to a hospital infrastructure helps medical devices and all other Wi-Fi devices obtain and maintain more reliable connections.
The buzz about 802.11n is, of course, the greatly increased throughput that it offers. This throughput is the result of a set of enhancements that includes double-wide transmission channels and multiple input, multiple output (MIMO) technology. To gain increased throughput, you need 802.11n not only in your network infrastructure but on every client device. Exploiting MIMO and other 802.11n capabilities in a medical device, especially a small medical device, may prove challenging. One notable challenge is squeezing at least three antennas into a small device and spacing the antennas far enough apart.
When 802.11n is deployed initially in hospitals, there will be few 802.11n client devices and many "legacy" devices that support 802.11a/b/g. 802.11n backward compatibility with legacy standards comes at a price: reduced throughput for all devices, including those with 802.11n radios. As bandwidth requirements increase, so too will pressure to ensure that all mobile devices support, but not necessarily exploit, 802.11n. Medical device makers then will move to put 802.11n radios – likely those that support the final, ratified standard – in their devices but may not redesign those devices to exploit 802.11n capabilities such as MIMO.
In short, while the use of 802.11n radios in medical devices is an inevitability, medical device makers don't need to race to put 802.11n radios in their devices. By waiting until the "dust settles", medical device makers avoid taking risks with early 802.11n radio chips that may have a limited lifespan or require firmware or even hardware upgrades to support the final, ratified standard. Fortunately, medical device makers and users can attain key benefits of 802.11n with both pre-standard and post-standard 802.11n implementations in the WLAN infrastructure.
Pictured above is an Edimax PCI 802.11n radio card for a desktop PC. Note the multiple antennas for MIMO.
UPDATE: You can read a couple new (since this post) white papers on 802.11n here.