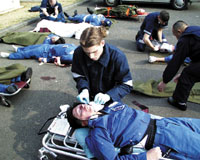 One of the challenges of mass casualty situations is the lack of an aggregate view of casualties. Hospitals have difficulty determining the number of victims they must prepare to receive, and without a disaster-wide view of patients it's hard to get properly triaged patients to the most appropriate facility in the right proportions. The St. Louis Area Regional Response System decided to create a system that would address these pre-hospital patient flow problems. Using $2.1 million in federal homeland security funds, and working with IBM and EMSystem, they created what is essentially an Admissions, Discharge and Transfer (ADT) system for emergency response.
A modern wireless network has replaced a 30-year-old radio system.
Paramedics at the scene of an emergency now use handheld devices to
record patients' identification, conditions, vital signs, chief
injuries or illnesses, and the hospitals to which they are being
transported.
The information is embedded in a bar code on
a paper bracelet the patient wears and transmitted via a wireless
network to the admitting hospital, where it is used to create a medical
record for the patient. That gives hospital administrators, emergency
managers and other public safety officials a good sense of the nature
and scope of disasters and other emergencies.
Now all they need is to integrate RFID casualty tracking and wireless patient monitors, and they will be able to triage patients at the disaster site (or some other near by staging area) and dispatch them to the appropriate hospital - while passing patient demographics and clinical data to waiting Emergency Departments.
Pictured right is a mass casualty drill from the Center of Excellence in Disaster Managment and Humanitarian Assistance (for some reason, known as COE-DMHA).