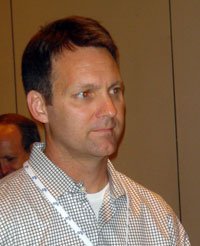 Matt Banet, President/CTO of Triage Wireless (previous posts here and here), and Paul Hedtke, with Qualcomm, presented a case study on wireless and cuffless vital signs monitoring. Triage targets the long existing weaknesses with current vital signs monitoring solutions; ECG electrodes and cables along with the blood pressure cuffs both hinder patient movement, come undone, and are sources for hospital acquired infections. Current vital signs monitors are also rather large and unwieldy, having to be pushed around on pole stands or COWs (computers on wheels). Triage is targeting a number of use cases:
One time measurements - office visits, spot vital signs monitoring
Ambulatory continuous monitoring
Acute care continuous monitoring
Ambulatory blood pressure can be important for patients with hypertension, "white coat" hypertension, and non-dipper diabetic patients. In the acute care setting, the monitor supports
conventional alarm limits and management, with an associated text based
alarm at a remote software client and audible alarms on the device. Matt noted the challenge of dealing with hospital's wireless LANs that frequently are not up to snuff for supporting continuous life-critical wireless applications.
The Triage solution is small (handheld), flexible, easy to use, and monitors blood pressure without a cuff - just a disposable inexpensive sensor, one cable and a PDA-like hand held monitor display. Triage has developed their own vital sign monitor that serves as a gateway that supports CDMA, Wi-Fi and Bluetooth radios.
Monitored parameters include: blood pressure, ECG, PPG, PCG, heart rate, beat to beat variability, SpO2, respiration, temp, PEP, LVET and other STIs, pulse wave velocity, and atrial stiffness/compliance. That's quite a diagnostic armamentarium.
Initial focus on hospital market, with consumer product in the works.
The patch cost is just a few dollars each. The monitor will probably be
under $2,000. The consumer product will be a replacement for the $99
blood pressure cuff sold in pharmacies.
Issues: central station client, alarm notification, motion artifact, hospital wireless LANs are problematic
Pictured right is Matt, because I didn't think to ask if I could get a photo of his sensor when he showed it to me.