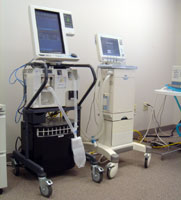 Frost & Sullivan recently named Cardiopulmonary Corp. as the recipient of the 2006 Global
Excellence of the Year Award in centralized patient monitoring technology. Very few hospitals standardize on one vendor's ventilators. This multi vendor requirement, plus the increased ventilation of patients outside critical care areas, has created a need for a system that provides an integrated view into ventilator performance, patient status and common alarms and alarm notification - regardless of vendor or location. Here is Frost's description:
The company is in tune with the crucial paradigm shift from legacy patient
monitoring systems to best-in-class devices that has taken place due to the
convergence of ventilation monitoring, infusion pump monitoring, and core
patient monitoring. Cardiopulmonary continues to demonstrate its dedication to
innovation in information technologies. As patient safety concerns are driving
cooperation, Cardiopulmonary is well poised to take advantage of these new
trends.
Pictured right are some of the ventilators in Cardiopulmonary's lab.