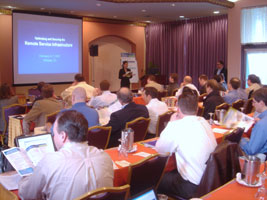 This must be the height of conference season - I'm at another conference this week. Yesterday I presented a 3 hour workshop titled "Understanding How the Introduction of New Equipment Impacts the Networked Customer Environment: Lessons in Connectivity and Security." Whew! Medical device vendor attendees are well represented here. My interest in the remote service topic is the considerable relationship between medical device connectivity and connectivity for remote service.
The first workshop yesterday was "What Data Do We Need to Collect? Data Architecture for Remote Service" presented by Yousif Hassan and Asad Jobanputra, both of Esprida Corp. They presented an inward focus on the issues to consider when creating and implementing a remote service system in your company. Identifying data elements, workflow automation, new procedures that are required were all discussed.
My workshop was a nice complement to the first one because my focus was external - gathering requirements from customers, especially for network connectivity, remote service "productization", and security. Specific processes were presented that describe how to gather network and security requirements from your customers, a review of HIPAA requirements, and a deep dive into Business Associate agreements and resulting operational requirements Business Associate agreements place on vendors. Networking rocket scientist Dave Hoglund, of Integra Systems, collaborated on the creation of the presentation especially around specific methods, techniques and vendors offering remote IT monitoring capabilities for wired and wireless networks, SNMP, etc.
The last workshop (we went until 8pm!) was "Wireless Connectivity Options for Remote Monitoring and Management." John Canosa and Richard Hecht gave a great overview of the whole alphabet soup of wireless technologies. In addition to reviewing the various characteristics of each different wireless technology (range, bandwidth, cost, etc.) they presented a process for determining which technology is best for your application. Great stuff.
Pictured right (at the front of the room) is Aurora Santiago, event producer, introducing the keynote Steve Pazol, VP & GM of NPhase and fellow blogger - check out his site.