Welch Allyn Introduces Propaq LT at AACN/NTI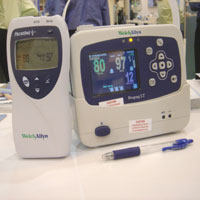 As mentioned earlier, Welch Allyn introduced the Propaq LT at NTI earlier this week. Their sales force has been showing pre release demo units for the past few months. This unit continues the Propaq tradition of easy to use, rugged, transportable patient monitors. The Propaq LT is almost half the cost of the Propaq CS.
At right, the Propaq LT (mounted in its self-charging cradle) is pictured with a Welch Allyn Micropaq (on the left) and a pen (for scale). It weights less than 2 pounds and is drop tested up to 75 g's, equal to a 6 foot drop on linoleum. Monitored parameters include 3 and 5 lead ECG, SpO2, respiration and NIBP for adult, pediatric and neonates. Battery life is similar to the Propaq, and because the bed rail cradle also charges the monitor it's always ready to go.
The Propaq LT has some pretty interesting features. The small rugged monitor is ideal for monitoring in non traditional areas, in addition to EMT, transport, and procedure areas. This is the only multi parameter monitor that can be mounted on a regular IV pole. It also comes with an "opera purse" carrying handle for ambulating patients.
The charging cradle has an integral bed rail hook. You can see that because the monitor is small, so is the screen. For situations where greater visibility is a requirement, they created a charging cradle that includes an SVGA output for driving off-the-shelf external flat panel displays.
The Propaq LT is highly configurable via a software utility supplied with the device. The display (parameters, waveforms, numerics and size), parameters, default alarm limits, trending and "snap-shots" can all be configured via a PC and USB cable. Putting the configuration into a separate utility greatly simplifies the user interface. The monitor can be configured specifically for the level of staff expertise and clinical area in which it's used.
The unit is available either standalone or wireless. The wireless version works with Welch Allyn's central surveillance system Acuity, and can integrate with EMRs and other clinical systems.
The low cost, form factor, ruggedness and simplicity make this an ideal device for the variable acuity care model.