You can now cast your votes for the best medical weblogs for 2005 at Medgadget. Voting will take place until Sunday, January 15, 2006. Be sure to vote for your favorite sites!

Read More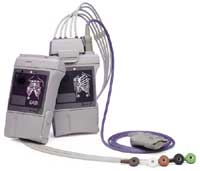 In what they call a "new risk of interference with Wireless Medical Telemetry Systems" (WMTS), the FDA is reiterating the warning they gave in November of 2005. Emphasis mine.
Beginning on January 1, 2006, the Federal Communications Commission
(FCC) started granting licenses for mobile radio transmitters operating
in the 460-470 MHz band. It's estimated that there are
several hundred
thousand mobile radio users
waiting for these new channels. Most of the
radio users in this band will include hand-held and other mobile
transmitters such as those operated by police; fire and rescue; taxis;
and commercial trucks.
These users could likely operate in and around a
hospital.
FDA recommends that hospitals determine if the
facility's current wireless medical telemetry systems are operating in
the 460-470 MHz frequency band. Hospitals still operating in that band
should move to less vulnerable frequencies. FCC has reserved a certain
portion of the radio spectrum for wireless medical telemetry. This part
of the spectrum is known as the Wireless Medical Telemetry Service
(WMTS).
Interference from TV stations broadcasting in the
vicinity of hospitals could also be a growing problem because of
Digital TV. The FCC is asking TV broadcasters to operate their new
Digital TV transmitters at maximum power, and that can increase the
potential for interference with medical systems. So if a hospital's
wireless telemetry equipment is still operating in the commercial TV
frequencies, it's important to migrate out of those channels and into
the bands reserved for medical uses.
The risk is far from new. The FCC has postponed granting licenses for the reuse of old telemetry spectrum on numerous occasions, so often that the real news is that the FCC actually pulled the trigger. The risk from Digital TV transmitters (DTV) is not new either - it all started with a DTV station firing up in Dallas in 1998 and knocking out their telemetry.
What's not plainly stated in this warning is that hospitals that move to the new WMTS bands can also expect interference, depending on what DTV channels are in their markets and which WMTS bands they're using. Something else that's missing is that hospitals may chose to adopt telemetry systems that use the ISM band rather than WMTS.
[Hat tip: Bill Hyman]

Read More
Welch Allyn has announced that Peter Soderberg, President and CEO, will step down on March 5, 2006. Peter joined Welch Allyn in 1993 and ran the medical products business for 10 years, and ran the corporate for 6 years - during which revenues increased $300 million.
Effective January 1,
2006, the company will establish an office of the president, consisting
of three long-service Welch Allyn executives, responsible for managing
the day-to-day operations of the company. The office of the president
will consist of executive vice presidents Kevin Cahill, Doug Linquest,
and Steve Meyer, who have a combined 65 years of experience with Welch
Allyn. The three will continue to report to Soderberg, who will be
retaining his chief executive officer responsibilities throughout the
transition period.
Best I can determine, Kevin Cahill is currently Welch Allyn's CFO. Doug Linquest is running the monitoring, vital signs and thermometry business units, and Steve Meyer runs the international side of the business. In an interesting feature of being a privately owned family business, a Google search of the welchallyn.com domain for the three co-president's names all returned the same document, the press release announcing their appointment.


Read More
Glenn Fleishman from Wi-Fi Network News offers wireless networking predictions for this year - and he's pretty confident about them. Glenn offers views on 802.11n and network security, plus the following:
Multiple 3G cell data networks will be in every major U.S. city.
We're not far off already, but Cingular, Sprint, and Verizon will have
hit all major metro markets with competitive, overlapping service,
which should push prices down.
3G operators will offer better Wi-Fi plans and VoIP.
Despite Verizon's anti-Wi-Fi advertisements that misstate EVDO's
strengths and Wi-Fi's weakness, Verizon will join the Wi-Fi fray.
Cingular, Sprint, and Verizon will all offer phones that work over
Wi-Fi or cell networks, although seamless handoff is still probably not
in the cards.

Read More
Datascope continues to struggle in their vascular closure business. Now they're redesigning the X-Site product and writing off inventory and tooling. On the bright side, Datascope also announced that they've closed on their acquisition of Ethicon's endoscopic vessel harvesting business, called Clearglide.

Read More