The Association for the Advancement of Medical Instrumentation (AAMI) is holding their annual meeting June 24-26 in Washington D.C. at the venerable Marriott Wardman Park Hotel. I'm going to piggyback the conference with an IHE PCD meeting at NIST that follows AAMI. I'm going to schedule a "meet the bloggers" event some time during AAMI. If you're a blogger, let's get together - otherwise it will just be "meet the blogger."
Much like at HIMSS, the idea is to find a place were we can eat, drink and socialize some time during the conference. If anyone has any suggestions, let me know. Otherwise over the next few days, I'll pick a local where we can meet.
I'll be blogging from both the AAMI conference and the IHE meeting at NIST.

Read More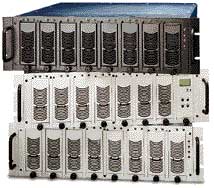 Content-addressed storage pioneer Paul Carpentier has started a new storage company called Caringo Inc. The company is positioned as providing, "scalable, high-end fixed content storage software, while reducing complexity, vendor lock-in and mounting costs." Sounds like just the ticket for hospital enterprise storage (you know, like PACS and CVIS). Their new product is called CAStore (can you say that without snickering? I can't). Here's their pitch:
It is hardware agnostic;
The scalable parallel
cluster architecture accommodates data growth as needed - even across
heterogeneous, evolving hardware;
The long-term storage is designed to be impervious to attack;
It is self-configuring, managing and healing;
The
system provides a standard HTTP interface free from proprietary APIs
and allows access from any platform, from cell phone to mainframe;
Includes
built-in disaster recovery, backup and continuous data availability
features in a single, integrated software package; and
Architected to prevent bottlenecks, eliminating any single point of failure.
Sounds like motherhood and apple pie. What's really cool is that CAStor is sold on a bootable USB flash drive that plugs into the user's
choice of X86 hardware with a Gigabyte (GB) or more of RAM, one or more
hard drives and GB Ethernet. Scalability is achieved as simply as
booting another node at any point in time. Imagine selling a USB drive for tens or hundreds of thousands of dollars - it boggles the mind.
You can read an "RFP" for CAS systems here. I hoped to fine a photo of the Caringo USB drive to go with this post - I couldn't, so instead you can see fancy RAID drives at right.

Read More
Jouko Karvinen, chief executive of Philips Medical Systems, said at a recent analyst meeting that they expect profit margins in the Medical Systems division to raise in the second half of the year.
Margins at the unit have lagged those of the company's
main rivals in healthcare and medical technology, which include
Germany's Siemens AG (SI) and U.S.-based General Electric Co. (GE).
According to market research
businesses MedTech Insight and PMS Internal Analysis, the global market
for medical devices and accompanying services was worth $290 billion in
2005.
In the first quarter, the EBIT margin at the medical unit declined to
6.7% from 7.8% in the same period a year earlier. The margin was
pressured by a less favorable geographical sales mix, additional
investments in research and development and ongoing charges relating to
the acquisition of U.S. based healthcare IT-company Stentor in mid-2005. Philips expects year-on-year margin improvement at Medical Systems to
result in a higher margin for 2006 compared with the 10.1% of 2005. Nothing like a little pressure to focus the mind:
Chief Executive Gerard Kleisterlee has identified the Medical Systems
unit as the company's main growth driver in the years to come.
In other news, Philips also restated its plans in the area
of consumer health and wellness, which is targeting growth in "remote home
healthcare solutions" specifically. Philips earlier this
year bought Lifeline Systems Inc. for about $690 million. Lifeline is a
company that provides personal emergency response services and has
annual sales of about $150 million.
Philips' consumer health and wellness
business was set up in 2004 to bridge the gap between Philips' consumer
electronics and medical division. For some reason Philips put this new business in a separate division under Domestic
Appliances and Personal Care. The company aims to achieve annual
sales of EUR750 million to EUR1 billion in two to three years for these
activities.

Read More
The Bluetooth Special Interest Group has formed a Medical Devices Working
Group with the objective to enable health-related devices to work with
consumer electronics products (press release). At a Bluetooth SIG meeting last month in Seattle, a group of 19 vendors, including Intel, Philips, and Welch Allyn, agreed towork on a new Bluetooth Medical Device Profile that will optimized interoperability between health-related devices and
personal consumer electronics products such as mobile phones, PCs and PDAs
where Bluetooth technology is already common.
"Health-related devices in the home, such as weight scales, blood pressure
monitors and exercise equipment, which implement the new standard will be
able to send information wirelessly to Bluetooth enabled PCs or cell phones
so that users can monitor their health information or share this information
with a doctor or fitness coach anywhere in the world," said Robert Hughes,
chair of the new Bluetooth SIG Medical Devices Working Group and a senior
wireless standards architect in Intel's Digital Health Group.
The SIG will begin work in the profile immediately, and hopes to have a ratified profile available for use in the first half of 2007. The completed profile will run on all current versions of
Bluetooth technology including the future high-speed version. Bluetooth is a great low cost wireless technology for communications between a sensor or medical device and a gateway that transmits data on to a local or wide area network. Several Bluetooth enabled medical devices currently exist, but their Bluetooth
implementations are proprietary and therefore are not interoperable
with devices from other manufacturers. The SIG is targeting the following applications:
Health and wellness management: by using a Bluetooth-enabled device such
as a blood pressure cuff, weight scale or cholesterol monitor, the user
regularly collects health data that is then wirelessly transmitted to
another Bluetooth device such as a mobile phone, PDA or health appliance and
could then be sent to the patient's caregiver for remote monitoring and
health management of the patient.
Chronic disease management or patient recovery: using a Bluetooth sensor,
a chronically ill patient can measure their vital health indicators on their
own or with their caregiver via a Bluetooth computation engine (PDA, PC,
mobile phone, etc.).
Medication management: a patient can receive reminders to take medication
using a Bluetooth medication dispenser. If the patient has not taken
medication after several reminders, an alert with the time and the medicine
missed can be sent to their caregiver who can take the appropriate action.
Fitness and workout tracking: the user is able to monitor fitness goals
by tracking health data during a workout with a Bluetooth sensor such as a
calorie counter, weight scale, or heart rate monitor. Data is then
wirelessly transmitted to a Bluetooth computation engine (PDA, PC, mobile
phone, etc.) where the user can track his or her progress relative to their
fitness goals.
Remote biosensor measurement - With a Bluetooth medical kit connected to a
set-top box or PC, patients can have their health status checked from the
comfort of their own home by conducting a phone or video visit with their
caregiver. Once the information is gathered it is then transmitted to the
caregiver in order for the patient's health to be monitored.
Bluetooth has many potential applications, but no technology is perfect. There will be applications where Bluetooth's power consumption, component size, or cost of goods (COGs) will be too high. Fortunately there are other technologies available to complement Bluetooth.

Read More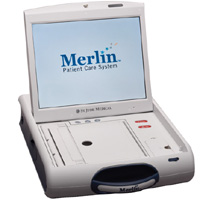 IBM announced that they've developed a portable programmer for implantable heart devices for St Jude. The system, called the Merlin Patient Care System, provides a better workflow and more memory - and I'll bet a much lower cost of goods. Here's a summary of the features:
A new user interface that makes the entire system faster to learn
and use. This interface, which is currently available for pacemakers
and is expected to be available for ICDs later this year, mimics the
natural workflow of a clinic to make it easier for clinicians to
operate.
Enhanced presentation of diagnostics, which consolidate and display
patient information so clinicians can make faster decisions.
State-of-the-art hardware, including a powerful Intel Pentium M
processor, an expanded disk and flexible options for future upgrades.
The hardware increases speed and consumes less energy, allowing the
system to weigh less, thereby making it easier for physicians and
nurses to carry and store.
The industry's first session summary screen, which shows a summary
of tests performed during a pacemaker patient's follow-up exam, and
shows a comparison between presenting settings and currently programmed
settings. This feature also is expected to be available for ICD
patients later this year.
Monitoring will be able to be conducted remotely and programming, once a difficult and time-consuming process, may become routine.

This is an interesting product for a number of reasons. First, it appears that the Merlin is based on a commodity PC platform - the Pentium M processor is the giveaway. Traditionally, medical devices have been embedded systems made up of custom designed hardware and software. The medical device market is ripe for this type of commoditization. By using an off the shelf hardware design St Jude realized a shorter time to market (which means a lower R&D cost) and a greater factory margin (due to lower COGs). Here's a hint on how IBM and St Jude worked together:
As
part of a seven-year agreement between the two companies, IBM worked
with St. Jude to develop a new system that better incorporates
clinician work flow and speeds up the process of delivering care
without compromising patient health.
IBM has been slowly working the medical device outsourcing market for some time. In addition to St Jude, IBMs done R&D outsourcing work for Medtronic and others.
One IBM collaboration with the Mayo Clinic yielded a portable MRI
device after just eight months, much shorter than the typical
turnaround of almost two years. [More
here
]
IBM also worked with Bang & Olufsen Medicom to develop a wireless
pill counter that informs both patients and doctors of medicines that
need to be taken and tracks medications that have been taken.
Additionally, the company partnered with Medtronic to design a
pacemaker monitor and programmer.
I expect to see more future products leverage commoditized computing power and outsourced R&D - especially for connectivity. Pictured right is the new Merlin programmer - sort of looks like a laptop doesn't it?

Read More