There were three tracks this afternoon, and I chose the wireless track (of course). The moderator was Stan Kachnowski, Chair of the HIT Lab at Columbia University, who ran a tight ship and provided great context for the various speakers.
Investment banker, Rob McCray of TripleTree, provided a great overview of wireless technologies and the current market situation (its HOT!). He also posited the following questions that must be answered by any investor or company:
Which wireless and medical technology?
Who will pay?
Who regulates and with what restrictions?
What is the best stratey for marketing and distribution?
How will the services be delivered?
McCray also noted the need for investors and companies who understand health care, communications technology and consumers. There's little doubt that wireless health will succeed, the question is how many failed attempts will be made before the right success formulas are found.
Next up was Paul Hedtke of Qualcomm. He noted the long life cycles of medical devices when compared to the cell phone or consumer electronics industry. Also mentioned were high reliability requirements, device interfaces and older users as other key factors. Connectivity requirements touched on wireless coverage, and smart data management (no lost or duplicate data). Another big issue is the absence of service level agreements (SLAs) from a wireless carrier, and limited device management tools.
Cell phones are a walled garden, controlled by the carrier - this makes support for deep health care applications tricky to implement. Off-the-shelf considerations are similar to embedded 802.11 radios for medical devices - life cycle, carrier certification and the right feature sets are key issues. Using an embedded radio in an application specific device is the typical approach. You can get a device from ODMs (original device manufacturers), a combination of outsourcing incorporating an OEM cell phone engine, or doing it yourself. You can use carriers services as is, or use a managed wireless data service, like that provided by Qualcomm in their QConnect program.
Jon Darsee of Vitaphone talked about direct to consumer business in telecardiology. The thrust of his presentation was the need for high touch to complement the high tech. His mention of the telehealth myth got a few chuckles: if just the most affluent 5% of sufferers of this disease just bought our telehealth service/product, we'd be successful. He presented Vitaphone as a case study. They developed a cell phone that could acquire and transmit an ECG. The product, that was unique on the market, was a flop. Next they added GPS location data and Bluetooth for an added gateway capability. It still flopped. Next, they provided a health content provider they sell and cobrand with pharmacies in Germany. The also came out with a special 3 button phone (which they partnered with Vodaphone, who distributes the phone and services). This phone enabled very high touch services that include a health conserge service.
Stephen Intille, of MIT, talked about body sensors in the home. They use cell phones as gateways for data transmission. His position is that the key enabler of mobile consumer health care is "just-in-time." Traditional care relys on a nagging doctor who may not see you again for 6 months or a year. Alternatively, a just-in-time sensor-enabled cell phone that can provide immediate feedback and reinforcement. He maintained that the just-in-time capability is more important than the wireless feature. His current research looks at how best to provide micro feedback at teachable moments on mobile devices to encourage sustainable behavior change - very cool stuff that goes to the heart of Mike Barrett's talk about Prospect Theory.
Robert Schwarzenber of Card Guard shared the history of his company as a case study. They started as a remote monitoring device company. They then acquired a company called LifeWatch that provides cardiac arrhythmia monitoring services. Next they acquired Instromedix a manufacturer of monitoring devices. Sensei is a joint venture between Humana and Card Guard, that leverages behavior informatics. Sensei incorporates wireless sensors, expert content, and individualized, just in time actionable messaging using the psychology of behavior informatics.
They currently brand and sell their own products, white lable products ("Card Guard Inside"), and co branded products (Sensei). They've also developed an ASIC (application specific integrated circuit) for interactive mobile platform applications. They have quite a suite of devices, some they developed themselves and some they licensed from cash strapped start ups. All of their devices use standard Bluetooth for communications with any Bluetooth enabled cell phone. He also emphasized that while the technology is important, getting the rest of the business model right is essencial.
Pictured right is the ANT radio designed for wireless sensors - there was lots of discussion of wireless networks at the conference, but it was all focused on connecting a gateway to the wide area network, rather than wireless enablement of sensors.

Read More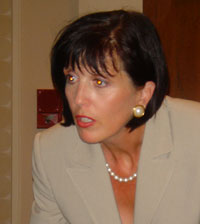 Kathleen Albright, VP of Honeywell HomMed, closed the keynotes for the day. Kathleen summarized the day and presented HomMed's vision for HU in the future. Reimbursement remains a significant barrier to adoption. Honeywell has been very successful at penetrating the home health market; they have monitored more than 350,000 patients through their home health customer base.
Pictured right is, you guessed it, Kathleen Albright of HomMed.

Read More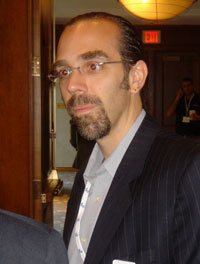 Astro Teller, CEO of Bodymedia, kicked things off after lunch with a talk about lifestyle as health care's major missing input. The principal is not to start with today's health care industry and enhance it with some technology. Market adoption of HU requires that vendors think differently - linear thinking starting with traditional health care delivery does not result in the kinds of innovations in marketing and business models required to drive HU adoption. This extends to really understanding market requirements and the whole product solution. An example is lifestyle. There is really very little known about lifestyle and its impact on health. What if we had 20 years of longitudinal data that showed that people with insomnia in their 50s had a higher incidence of falls in their 70s - data like this would be very valuable, something like sequencing the lifestyle like sequencing DNA. Teller suggested that health care is not really discreet physiological data like SpO2 or heart rate, but more about understanding humans and managing their states.
A corollary to lifestyle as health care, is driving adoption by reframing the need and potential solutions for HU solutions. This happened to Teller's company. Early on, Bodymedia decided to bypass the physician/patient market segment and targeted consumers for health and fitness. They had a distributor in Italy who very successfully sold their product to physicians as "a holter monitor for your lifestyle." Lifestyle as a clinical input? Bodybug tracks activities like sleep, resting, when you're in a car or sitting at your desk, when you ride a bike or lift weights - all things that any physician can use in the diagnosis and treatment of patients.
Don Jones, VP of Bus Dev at Qualcomm, talked about what's missing in mobile technologies in health care. First, the current situation: in 2001 the number of mobile subscribers surpassed land lines on a global basis. Mobile phones are continuing to serve as the convergence platform for many consumer electronics categories.. Wireless data speeds and coverage continues to improve. Location based services are on the horizon, and could impact health care. Other near term futures include streaming video, financial transactions, and converged computers/cell phones. Wireless internet access is starting to eclipse wired internet access. Cell phones are already the wearable computer. In health care, phones have been used as gateways for wireless sensors and provide glucose monitoring.
Now what's missing: health care solutions must offer trust, guilt reduction, hope and fun. A solution design model includes the 7 "C"s: cost, confidentiality (the device does not give away that the user is sick), compliance (you know, where patients actually use the health care app), convenience in daily life, connectivity (to friends and family more than databases or providers), community (peer or support groups), and control (where the user's in control).
Ivo Lurvink, the GM of Philips new Consumer Healthcare Solutions group, spoke about two basic strategies that makes up Philips new health care division: cross care cycles and partnerships. Philips acquired Lifeline earlier this year, and is making a major drive into the consumer health care market. Lurvink was the first to mention the need for new distribution channels for consumer health care. Currently, DME vendors are under pressure to consolidate, mass retailers and pharmacies are getting into outpatient clinics - direct to consumer channels are being built. One thing they note as missing is what Philips calls "professional endorsers." Philips has staked out both consumer and health care provider worlds with stand alone devices and systems that connect patients and their data to providers.
Next up Dave Whitlinger, President and Chair of Continua Health Alliance, talked about Continua's mission and potential impact on HU. After the obligatory intro slides addressing demographic and technology trends, he touched on the three use cases being targeted by HU and Continua: health and wellness, elder care, and chronic disease management. The key components for these use cases include sensors and devices on the front end, come sort of gateway, and back-end informtaion systems for use by patients, family and health care providers. Making all of this come together and more rapidly grow the market through the development of device interoperability is the goal of Continua. Tomorrow we'll get an update on the working groups at work in Continua, and their planned time lines. Someone in the audience suggested Continua extend their scope to include coordination of research so the entire group can benefit from individual research and validation efforts - and maybe gain some synergy, lowering everyone's research costs.
Craig Frazier, GM of McKesson's Extended Care Solutions Group, closed out the after-lunch session. McKesson's leveraging their hospital and payor customer base to penetrate HU solutions. McKesson last did $1.5 billion in health care IT, making them the big dog in that market. A few weeks ago, McKesson launched the Personal Health Solutions business unit. Frazier showed how all the recent acquisitions fit together with existing operations to address the home health market. The number one reason health plans or providers said they are deploying HU solutions is competitive differentiation. The second reason for HU adoption is proven return on investment for patient/physician communications, chronic disease management, and improving interoperability (both in technology solutions and in the delivery of care). Frazier's suggestions for improving HU adoption included, getting providers and payors to "work better together," publish more studies on the benefits of HU solutions, and continue to promote interoperability standards.
Pictured right is Astro Teller, CEO of BodyMedia.

Read More
Erik Olsen, current president of AARP, presented perspectives on health care as seen by the stakeholders that he represents. AARP's goal is to create a reformed, patient focused, universal coverage based health care system that controls cost. They want to see a phased approach to transforming health care in the U.S. He recounted the history of doomsday predictions surrounding the baby boomer generation - that there was no way we could build enough schools or train enough teachers to educate the boomers - to discount today's hand wringing about how heath care for boomers is going to bankrupt the nation. Given the track record for centralized bureaucratic central planning (the great Communist economies, the European welfare state, even the creation of the department of Homeland Security), I can't understand why a single payer solution is the best way to reform health care. Haven't the bureaucrats created the health care mess we have now?
The next speaker, Michael Barrett, of Critical Mass Consulting, was the author of the original Healthcare Unbound report published in 2002. He talked about the Paradox of Self-Management. Why can't patients better take care of themselves? The issue of patient self-management has been around for many years. Mike's hypothesis is that to compensate for the irrationality of individual decision making, patient self-management tools should take note of prospect theory. From Wikpedia:
Starting from
empirical
evidence, it describes how individuals evaluate
losses
and
gains
. In the original formulation the term prospect referred to a
lottery
.
The theory is basically divided into two stages, editing and
evaluation. In the first, the different choices are ordered following
some heuristic
so as to let the evaluation phase be more simple. The evaluations
around losses and gains are developed starting from a reference point.
The value function which passes through this point is s-shaped and, as
its asymmetry implies, given the same variation in absolute value,
there is a bigger impact of losses than of gains (loss aversion). Some behaviors observed in economics, like the disposition effect or the reversing of risk aversion/risk seeking in case of gains or losses (termed the reflection effect), can be explained referring to the prospect theory.
An important implication of prospect theory is that the way economic agents subjectively frame
an outcome or transaction in their mind affects the utility they expect
or receive. This aspect of prospect theory, in particular, has been
widely used in behavioural economics and mental accounting.
Framing and prospect theory has been applied to a diverse range of
situations which appear inconsistent with standard economic
rationality; the equity premium puzzle, the status quo bias, various gambling and betting puzzles, intertemporal consumption and the endowment effect.
The bottom line: for any HU patient self-management solutions to actually work, a significant amount of psychology must be applied to the introduction, training and ongoing use and patient interaction of self-management solutions. This is an important requirement for those who want to develop, bring to market, and use patient self-management systems.
Jeremy Nobel MD, of Harvard, spoke about getting payors and purchasers to support (i.e., reimburse) for HU products and services. After a summary of health care trends (the usual increases in costs and chronic disease), he dove into health care purchasers (employers) perspectives. Employers are positive on high deductible health plans (HDHP) and disease management as ways to better manage costs. The attitude about HDHPs is not the short term cost shifting, but the potential impact that a direct relationship between what a patient pays and their resulting behavior may have on better decisions. Interestingly, the same research showed that employer interest in higher employee cost sharing was significantly lower than HDHPs.
Here are the conditions driving HU adoption among payors and self-insured employers: technology evolution (cheaper, faster, better, smaller, ubiquitous), benefit designs (HSA/HDHPs, consumer-directed movement), and evolution of pay for performance (paying for improved outcomes rather than improved processes). He talked about the market opportunity to work on the margins in the transition from a healthy patient to health situation to physician visit to hospital admission. Current HU technology was reviewed. His wish list for IT solutions included a web-based personal health records, home-based biometric devices (integrated with the online personal health record), and collaborative connectivity - i.e., interaction with caregivers. He emphasized on the need for whole product solutions that address lab results, vital signs, pharmacy, self reported behavior and health status, and a place for providers (your primary care physician (PCP), care coach and a way for specialists to also interact with the patient).
Pictured right is the graph representing how a subject's behavior changes over time based on wins or losses. Basically, there's a bigger impact on subsequent decision making from losses than from gains. In health care this means that positive outcomes from behavior modification (smoking cessation, weight loss, lowering blood pressure) have a diminishing emotional impact.

Read More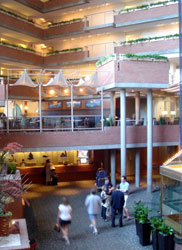 I'm going to be blogging the Healthcare Unbound converence, today and tomorrow. These posts will be posted quickly, so you might want to check back later to find a more readable text, photos, and perhaps some more complete thoughts.
Lots of new technology, nascent clinical validation, and a rich stew of startups and large multi national corporations all collided in today's first day of the Healthcare Unbound conference. Jay Srini, from UPMC.kicked things off, noting that Healthcare Unbound (HU) is truly unbound, ranging from the home to battlefield, and out to space with the monitoring of astronauts. My favorite market research firm, Spyglass Consulting and the reality check offered in their study on the remote patient monitoring market.
"Everything you know is wrong" was the theme of Vince Kuraitis's keynote. First he started with a survey of remarkable events of the past year:
Continua created through Intel's leadership
Understands the need for interoperability as a condition for the remote monitoring market's advancement. And while interoperability is necessary, it is not the sole need. Another need to be targeted by Continua will be reimbursement
The next event: Medicare's pilote/demo projects. These projects are the Medicare Health Support (MHS) and Care Managment for High Cost Beneficiaries (CMHCB).- disease management companies are the real winners of MHS, but Medicare has many provider based experiments in the works.
The American Health Information Communicty (AHIC) breakthrough proejcts launced for secure messaging and personal health records
Industry consolidation
Matria acurie CorSolutions, Healthways acquires Livemasters, Philips acures Lifeline
Physicians (AAFP and ACP) endorse the medical home model
Qualcomm announces plans for a healthcare MVNO
SPAN study finds that disease management plus remote patient monitoring is greater than disease management alone
The UK has signed a National framework agremeent for telecare.
VeriChip announces IPO plans
California enacts the Tom Cruise Ultrasounde Bill
What you think you know (that's wrong): The killer app for Healthcare Unbound technologies is chroinic disease management
The "hospital at home" application promises to be the biggest disruption of all to remote monitoring applicaitons. Unlike the famous Forrester report that pegged chronic disease as the largest market segment. The Cochrane Collaboration has done studies on the use of "hospital at home" to subsitute treatment at home as a substitute for treatment at the hospital. There is a significant research/literature base that is almost entirely outside the U.S. Hopkins has done the only U.S. project. A pilot in Portland was also mentioned. The HAH concept is not based on technology, but can be supported and enhanced with technology.
Why will the HAH market segment take off in the U.S? The government has projected that by 2014 that hospital care will cost $1 trillion, by far the largest category of costs in health care. There is much greater potential savings by reducing hospital care by treating some patients at home.
What you think you know (that's wrong): Providers, especially physicians, are technology crumudgeons
Providers are begining to see the light, and will become proponents in the near future. Concepts like the Advanced Medical Home, secure e-mail, remote monitoring and pay-for-performance have all recently garnered support by the American College of Physicians and the American Association of Family Practice physicans.
What you think you know (that's wrong): Healthcare Unbound is about home sweet home.
In reality Healthcare Unbound is about "going mobile" We are entering the evolution of IT that Forrester referes to as "IT Everywhere." From another perspective is the disconnect that chronic disease management is evolving from a clinical based model to a behavior change model. How can you do that without 24×7 connectivity to the patient? We need to reframe debate from is the question between different types of home based devices (phone based gateways, TV set top boxes, etc.) , to creating pervasive connectivity between sensors and devices, the patient, and providers.
What you think you know (that's wrong): A $34 billion health care unbound market size by 2015? That number is too low.
In the Gartner Hype Cycle, we're at the peak fo inflated expectations.
Eric Brown, Research Director for their health care practice, provided an overview of the Healthcare Unbound market.
The term HU was defined in 2002, with the first Forrester report looking at remote patient monitoring and where it might go. In 2004 they estimated the market at $33.6 billion in 2015, with chronic disease management as the largest segment (at $26.7). Today's HU market is under $1 billion. Early adopters were identified as the young (under 50) and the Boomer Vangard (50-59), 33% and 26% wireless and technology adept respectively. The HU eco system will be dependent on a network effect where different players benefit from and rely on other's successes. The keys are technology, marketing and revenue.
In the past, vendors had to create their own end to end solutions. The market and technology are maturing to the point where vendors can focus on certain core IP, and buy non-core technologies from others. Continua Health Alliance is an example of the push for interoperability to grow the market. The marketing challenge is that people will not buy solutions to problems they don't recognize. Bob Dole's famous commercials early in the life of Viagra represented a mile tone in establishing consumer awareness in erectile dysfunction and the fact that there's an available therapy. And of course vendors and providers must be paid for HU type applications. Eric presented some data on what consumers would pay for various tele health applications (not much).
Eric then offered up some case studies about barriers and roadblocks to HU market adoption. The bottom line was "great technology" but no "eco system." Alere was one example - 1998 created a home health SpO2 device, 2002 completed a benchmark study demonstrating value, 2003 they evolved into a full disease management firm to create the necessary eco system to deliver a whole product solution. Another case study was Living Independently. They used commercially available technology to create an elder care monitoring system. They've also leveraged ADT for installation, support and distribution. This company is on a much more direct and rapid road to profitability.
What should you do? Don't expect to create a walled garden of proprietary solutions - join Continua. Don't let the tech solution get too far ahead of the basics of problem awareness. Promote the economic value of the broader HU solution.
Next up was Joe Kvedar MD, founder and Director of Partners Telemedicine.
Dr Dvedar talked about the role of providers in HU. He too looked into the future, suggesting a robotic surgical solution sold direct to consumers by Sears. He described the growing market need, driven by the growth in chronic disease and the growing gap between supply and demand for caregivers. Connected Health at Partners is patient centric, where patients have access to their own data, emphasizing self management and more effective use of providers. The Partners program sees two challenges, providing tools to promote adherence to care plans, and providing care when and where it's needed. He also presented some of the Connected Health projects at Partners, including medication adherence, the virtual coach, hypertension self management, acne e-visits (in collaboration with RelayHealth). He offered folks to join their discussion at www.connected-health.org.
Pictured right the lobby of the conference hotel, the venerable Hyatt Cambridge.

Read More