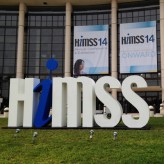 The HIMSS conference is so big, with so many different kinds of attendees and exhibitors that it's almost impossible to have one big theme for any given year. Yet the question of theme for any given HIMSS is something we all talk about. The themes one perceives are at least partially defined by our own interests and area of focus. Consequently, the #HIMSS14 themes for me were:
The shifting product and value proposition focus of many of the vendors I track,
The tension between spot solutions and enterprise solutions, and
The big buzz word of the show, population health.
Two of the market segments that I track with big shifts in value proposition were medical device data systems (MDDS) and messaging middleware. We'll talk about specific shifts in a moment, but I think it worthwhile to consider why this change in value propositions has occurred. One obvious factor among MDDS vendors is acquisitions. Capsule Tech (registration required), Accent on Integration and iSirona have all been acquired. Acquisitions are major events when everything about a company is reevaluated in an effort to wring greater value from the acquired company. The other factor I think is the growing adoption of MDDS for clinical documentation into EMRs may have caused sales growth to temper a bit, causing vendors to look beyond clinical documentation and explore for ways to add value and differentiate. Let's look at some examples.

Read More
Everything's almost set for this year's HIMSS conference in Chicago. News of exhibitors, big and small, that have chosen to pull out of the exhibition has gotten a lot of play. Of the vendors that have pulled out that I follow, all are coming to the conference as attendees. HIMSS reports that the number of total exhibitors is up a bit over last year. So it looks like HIMSS remains as relevant as ever — not that I had any doubts.
As always, I'll be blogging from the conference, and writing a HIMSS wrap-up story for Canon Communications. If you're interested in a story for your publication, let me know (contact info here).
Some Interesting Exhibitors
There seem to be an increase in new and interesting vendors this year. Just a few of the exhibitors that I'll be seeing for the first time include: point of care communications vendor Voalte, wireless sensor company KAI Sensors — wireless and no-contact sounds intriguing, CaraFlow with an interesting in-room nurse automation solution, workflow automation vendor Mobile Matrix, some new distributed antenna system (DAS) vendors (Tri-Power, Cellular Specialties, and Cell Antenna – okay they only sort of qualify as a DAS, but interesting none the less), and a bunch of new wireless networking vendors — from services (Scientel Wireless, Wantering WiFi and Presidio Networked Solutions) to infrastructure (Aerohive Networks, Fatpipe Networks and Ruckus Wireless).
If I've missed anyone you think I should check out, you can drop me a line (my contact info is on the About page).
Meetings & Communication During the Conference
If you want to meet up at HIMSS, you have two options. First, you can look at my calendar and request a meeting in advance. Be sure to note the timezones displayed on the left when proposing times — on my calendar page, both Pacific (where I live) and Central times (the meeting location) are shown. Confirm which timezones are displayed on your page (you may see Central and your own time zone displayed).

Read More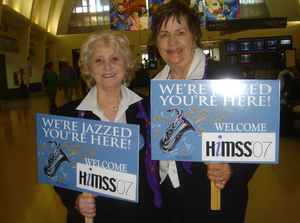 I'm on my way to HIMSS today, and really looking forward to this year's conference and exhibits.There's lots of interesting rumblings among the market segments that I follow.
There will be big news among RTLS/RFID vendors and I'm expecting some announcements from a number of connectivity companies.
As in years past, I'm attending as a contributing editor for MX Magazine. As such I've been inundated by PR folks for appointments. For the first time, I've used an online schedule to coordinate things. HIMSS only comes once a year, and I always try to make the most of it.
Meet the Bloggers
I'm very late with a post this year, but there will be a meet the bloggers gathering during the HIMSS opening reception – that's Sunday between 5 and 8 pm (here's a link). Look for the big blue and orange sign with "Meet the Bloggers" and come by and say hi.

Read More