In this post we're going to lift the window shade a bit on why many manufactuers love Wi-Fi, and why they also hate it with equal passion.
You see, I'm often asked by manufacturers about alternatives to Wi-Fi for wireless medical devices. And I've done a number of wireless technology surveys for manufacturers, looking for attractive alternatives. There are no attractive alternatives, at least for most medical device applications at this point in time.
Before we dive into this sordid tale of passion and betrayal, let's frame the discussion. The wireless application I'm referring to is the connection between a portable or mobile medical device and the enterprise wired network. While the examples in this post come from hospitals, there is much here that is applicable to ambulatory settings. Applications that are not considered are cable replacement applications (Bluetooth or wireless USB) or wireless sensors in body area networks (BANs) that are, by their nature, low power and short range, are a different animal.
Read More
A public meeting on Converged Communications and Healthcare Devices Impact on Regulation (see here) was convened by the FDA and FCC on July 26-27, 2010. The major topics addressed by panels were (1) Current State of Wireless Health & Lessons Learned, (2) Innovator Perspective, (3) Healthcare Provider, Clinician & Patient perspective, (4) Investor and Research & Development perspective, (5) Reliability – How to Define Quality of Service, and (6) Electromagnetic Compatibility – How to Promote EMC. A complete transcript of the meeting will be forthcoming at the conference link given above, or at www.regulations.gov using the docket number FDA-2010-N-0291. The docket folder currently includes about 35 written comments made in advance of the meeting including from concerned citizens, professionals and professional groups, and major medical device and communications companies.
The stated motivation for this meeting included concern for the proliferation of devices using radio technology as well as reliance on consumer grade communication devices. In part this reflects potentially overlapping regulatory areas with the FCC on the spectrum side and the FDA on the medical device side. In addition to the usual array of medical device performance issues, the radio arena presents the additional challenges of the shared spectrum space, and the suitability of general purpose devices and systems for medical applications.
The major questions addressed at the meeting included data integrity and reliability, medical device and system security issues, allocated and unlicensed spectrum utilization, joint regulatory requirements, and risk management. The latter included the need to define levels of device criticality (which may then correspond to device FDA classification), and potential performance issues in multiple environments.
The FDA and FCC issued an associated joint press release (here) in which they reiterated the generally held belief that innovations in medical device communication "holds significant promise for enhancing health and reducing cost." They further reiterated that these applications require agencies to assure that such devices operate in a safe, reliable and secure manner, while also encouraging innovation and affording the public the potential benefit of such devices. In part this will benefit from clarity and predictability with respect to the regulations as the agencies fulfill their  mandate to protect the public from unsound devices and/or unsound device performance. In this regard it is certainly a challenge to the FDA to both tighten regulations (e.g. with respect to infusion pumps, and likely with respect to the 510(k) process), while also trying to be pro innovation.
Two issues that will have to be resolved here, and for some wired applications as well, are distinguishing real medical devices from health related toys, and where an integrated and regulated medical device ends and a less regulated general purpose communications or computer network begins. The commercial health toy arena has a strong element of regulatory avoidance, which might be acceptable with clear and honest marketing, and some way to exclude date from such devices from being confused with actual medical device data.  It should also be clear that a medical device performing a critical function cannot operate at the whims of smart phone and internet performance when we have ample demonstration that these systems are not in fact reliable. Being unable to make a simple phone call, blog or text is one thing while being unable to send important information to a healthcare provider, who is in turn relying on being able to receive such information, is quite another.
Read More
Wireless changes everything …
I have been watching the evolution of wireless bedside medical device connectivity for several years now. It is now fairly common for medical devices to communicate wirelessly and most hospitals now have the requisite Wi-Fi networks installed and operational. In fact, the saturation point of WLAN adoption in US hospitals has been reached as the numbers are quickly approaching 90% of all US hospitals.
But this posting is not about Wi-Fi or other wireless technologies used in medical devices. Rather it is about additional connectivity considerations beyond the actual wireless connection of the device to a network. Regardless of the wireless connection technology or standard used, wireless changes everything when it comes to connectivity.
Read More
The archetypal wireless medical device is the telemetry monitor for measuring electrocardiographs . First introduced in the 1970s, cardiac telemetry systems were pretty straight forward. Analog signals were transmitted with each telemetry transmitter/receiver using its own dedicated channel. Medical device vendors placed ceiling mounted antennas connected with coaxial cable back to central radio frequency (RF) transmitter/receivers in a wiring closet. There were no other wireless medical devices. Nor were there any wireless LANs – or even wired local area networks, for that matter.
A lot has changed in almost 30 years – I mean besides feeling older.
The nirvana that was the 1970s came to an abrupt end on February 27, 1998 at 2:17 pm, when, "WFAA-TV channel 8 television began broadcasting on digital TV channel 9 and continued until 10:35 p.m., shutting down transmission a few times to allow a tower crew to work on the antenna." This and subsequent tests of digital television broadcasts by the Dallas broadcaster, knocked Baylor University Medical Center's (BUMC) telemetry off the air. Fallout from this intentional (and completely legal) interference resulted in the creation of the new WMTS frequencies for use by telemetry monitors. Between that fateful day in 1998 and 2006, BUMC has spent $6.6 million shifting frequency and upgrading the telemetry systems at their hospitals. (You can read about BUMC's ordeal reprinted from the AAMI publication Biomedical Instrumentaiton and Technology Journal story on this FDA web page.)
Read More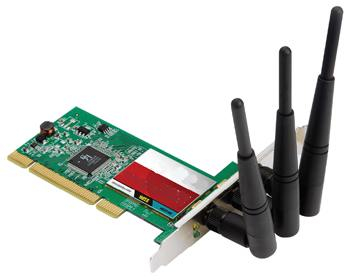 Because it promises throughput as much as 10 times greater than that available with current Wi-Fi® standards, the forthcoming IEEE 802.11n standard is generating tremendous interest among users of wireless LAN (WLAN) products. 802.11n throughput rivals that of Ethernet, and so availability of 802.11n may cause some organizations to use WLANs as the primary means of network access for typical computer users.
Although the 802.11n standard will not be finalized and ratified until 2009, it is easy to find laptops, home routers, and other products with radios that are based on a draft of the standard. The Wi-Fi Alliance, an industry association, is performing product interoperability testing and certification based on the draft standard. Should makers of medical devices be racing to add 802.11n to their devices?
Read More