If it were possible to be unaware of the general problem  of cybersecurity, the recent Sony hack with its public disclosures of  "private" e- conversations and then terroristic blackmail, following the earlier release of celebrity cloud photos, ought to have provided notice that what is electronically stored is likely to be available to those determined to have it. Moreover we know that cybersecurity can in principle also impact the function and availability  of connected systems (Sony again) and/or the information they contain. We also need to be concerned about the malicious alteration of information or disruption of device performance. You may remember the hacked insulin pump story which is already a few years old, and the story that the wireless function of Vice President Cheney's pacemaker was disabled to protect against hacking.
In this broad context it may be worth taking a look at the FDA's  now posted contents of the October 21-22, 2014 FDA workshop on  "Collaborative Approaches for Medical Device and Healthcare Cybersecurity". There is also a link there to the October 29 FDA Webinar on the Final Guidance on Premarket Submissions for Management of Cybersecurity in Medical Devices.  (If that link doesn't work, as it didn't for me, try here.) I had not been not aware that October was National Cybersecurity Awareness Month under the auspices of the Department of Homeland Security (DHS).
Read More
The Office of the Inspector General (OIG) of the U.S Department of Health and Human Services has released a report (pdf) outlining its 2015 work plan.  Among a host of subjects is "Information Technology Security, Protected Health Information, and Data Accuracy" with the subsection "Controls over networked medical devices at hospitals". The focus here is on the security of  patient electronic health information which is to be protected under law. Other risks associated with device networking are not addressed.
Read More
When I do presentations on the use of standards, I invariably have a slide which defines interoperability as "the ability of a system or a product to work with other systems or products without special effort on the part of the customer." My second slide then defines syntactic and semantic interoperability.
Syntactic interoperability occurs when there are two or more systems capable of communicating and exchanging data and this is usually attainable with the use of physical standards, data standards, and messaging structures. Semantic interoperability is defined as the ability to automatically interpret the information exchanged meaningfully and accurately in order to produce useful results as defined by the end users of both systems.
Read More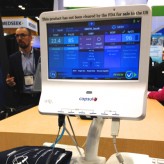 This summer, FDA proposed lifting regulations from certain currently regulated medical devices. This unprecedented policy shift targets devices known as Medical Device Data Systems (MDDS) and is intended to benefit the mobile app industry and companies like Google, Apple and others. The current regulatory burden for MDDS devices is Class I, 510(k) exempt. This means manufacturers have to follow a basic quality system (i.e., design controls) on par with ISO9001, and report instances of patient injury or death in addition to any product recalls to FDA.
The following is a guest blog post embodied in an abridged version of a comment submitted to FDA in response to their draft guidance.
Read More
I was listening today to the CE-IT Webinar on CE and HIT from the 2014 AAMI conference in Philadelphia. Much of the session reviewed what has happened over the last five years and it got me thinking about my experiences and what I've seen over the last ten years in medical device connectivity and remote monitoring. It's been an interesting ride and yet I realize there are a few basic ideas that have resonated over the years. These basic ideas are:
Specifying those requirements that are unique to my situation are where I have the most control in acquisition;
There are other players in the market who may change the landscape of what is available to me; and,
The government may require something which can constrain my options.
Read More
The recent recall (links below) for McKesson's Anesthesia Care system raises interesting questions about potential information system failure modes as well as what system/software functions cross the imaginary line between unregulated EHRs and regulated medical devices.
First the facts. The FDA announced McKesson's voluntary recall of its Anesthesia Care system in several on-line (here, here and here)  postings. This trio of postings is interesting because the first links only to the second, the second does not link to either of the other two. The third also does not link to the other two, and was not part of any of the announcements, but it is the most complete.
The statement of the reason for the recall is that, "There was an occurrence where the patient case data did not match the patient data when the case was recalled in the anesthesia care record (ACR) in that it included data from another case." It was further noted that, "Use of this affected product may cause serious adverse health consequences, including death."  In the third link the FDA identifies the product as,
Read More