A while back I had the opportunity to chat with Todd Dunsirn, the CEO of True Process. True Process provides products and services to both hospitals and various manufacturers. The company is focused on the point of care market offering a medication administration solution and a medical device data system.
What was the genesis for starting True Process?
I started the company in 2004. I have an engineering background, and had several other companies doing IT consulting and then web development, and application development. Then I had a friend contact me to develop a bar-code point-of-care simulation so that sales reps that were selling infusion pumps could demonstrate the five rights process with the pump. So, of course he said, "Hey can you do this? It's gotta be done in three months." And keep in mind, I had never heard of bar-code point-of-care [chuckle] prior to this, so I'd really never thought about infusion pumps.
Read More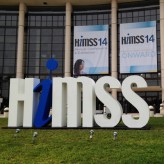 The HIMSS conference is so big, with so many different kinds of attendees and exhibitors that it's almost impossible to have one big theme for any given year. Yet the question of theme for any given HIMSS is something we all talk about. The themes one perceives are at least partially defined by our own interests and area of focus. Consequently, the #HIMSS14 themes for me were:
The shifting product and value proposition focus of many of the vendors I track,
The tension between spot solutions and enterprise solutions, and
The big buzz word of the show, population health.
Two of the market segments that I track with big shifts in value proposition were medical device data systems (MDDS) and messaging middleware. We'll talk about specific shifts in a moment, but I think it worthwhile to consider why this change in value propositions has occurred. One obvious factor among MDDS vendors is acquisitions. Capsule Tech (registration required), Accent on Integration and iSirona have all been acquired. Acquisitions are major events when everything about a company is reevaluated in an effort to wring greater value from the acquired company. The other factor I think is the growing adoption of MDDS for clinical documentation into EMRs may have caused sales growth to temper a bit, causing vendors to look beyond clinical documentation and explore for ways to add value and differentiate. Let's look at some examples.
Read More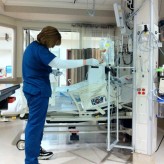 It's useful to segment and analyze markets for developing company and product strategy or analyzing competitor's actions. Such an exercise helps illuminate why companies and markets do what they do – and what they might do in the future. In getting ready for this year's HIMSS in Orlando, I've been thinking about the point of care (PoC) market. At the first Medical Device Connectivity conference in 2009, I defined the PoC market as the workflow and data associated with direct patient care in nursing units, the ED, surgery and related areas. This contrasts with EMRs managing orders, diagnostics, capturing charges  and generally documenting things for the medical/legal record. (You can download a PDF of the presentation here.)
Many devices and software applications used at the PoC are FDA regulated medical devices because they are directly used in the diagnosis or therapy of patients. Because the PoC is where direct patient care is delivered, most PoC solutions meet the FDA's definition of a medical device. Imagine a layer cake:
Read More
On February 14, 2011 the FDA published notice (PDF version [link fixed] and press release) of the long awaited final rule for medical device data systems (MDDS). The real news behind the final MDDS rule is not the less-burdensome path to market trumpeted by many news stories, but the FDA's stated intent to exercise "enforcement discretion" with regard to those who create MDDS. For the MDDS vendors who are already regulated (Capsule Tech, Cardiopulmonary Corp, Dawning Technologies,  Nuvon and others) this final rule is an easing of the regulatory burden. For those that aren't (e.g., Bridge-Tech Medical, CareTrends, iSirona and others – I currently track 16 companies in the MDDS category) this final rule signals that FDA enforcement actions will be forthcoming for manufacturers that don't meet FDA's implementation deadlines (more on that later).
The final rule reclassifies MDDS from a Class III postamendment device to Class I (general controls). Device reclassification has been used before to signal industry that FDA is transitioning from "regulatory discretion," where the FDA takes a wait-and-see approach to nascent markets, to pursuing "enforcement discretion" to actively regulate new market segments.
Read More
On August 31, 2009 Health Canada, Canada's medical device regulatory authority, posted classification information for Patient Management Software (pdf). This action is similar to the FDA's proposed rule for the regulation of Medical Device Data Systems (MDDS), nearing finalization. The Canadian announcement begins with a reminder of its definition of "medical device" which is similar to although not identical to the U.S definition. This definition includes Patient Management Software as a medical device. In addition, Canada defines an "active" device as one that requires an energy source, and "active diagnostic device" as one that is intended to supply information for the purpose of detecting, monitoring or treating a physiological condition, state of health, illness or congenital deformity. Based on these definitions patient management software is declared to be first a medical device, and then an active medical device.
The next question is the appropriate classification of this type of active medical device under the Canadian classification system. The Canadian system has four device classifications which is similar to the European system. The U.S., of course, has three classifications.
Patient Management Software that is used only for archiving or viewing information or images, and is not involved in the primary acquisition, manipulation or transfer of data is deemed to be a Class I device.  This definition is somewhat more restrictive than that for a U.S Class I MDDS. Any Patient Management Software that goes beyond these restrictions is a Canadian Class II device. Furthermore such software is categorized as an active diagnostic device. This includes software involved in data manipulation, graphing, flagging of results or performing calculations. Workstations that interface with such software are then also in Class II. The inclusion of the work station appears to directly address the illusive question of when does a computer become a medical device. As a result of these new distinctions some software that was previously Class I (in Canada) will now be Class II. The manufacturers of such systems sold in Canada have been granted a one year transition period to meet those aspects of Class II regulation that are different from or in addition to those for Class I. This defined transition period is a more explicit statement than the FDA has provided in the draft MDDS rule.
The distinctions between system functions made in Canada are somewhat different from those initially defined by the FDA for MDDS. None-the-less they reflect essentially the same issues and concerns which are that (1) any software that receives and manipulates patient data is a medical device, and (2) that the appropriate classification depends in part on exactly what the software does with the data. Only minimal data handling activities are in the least stringent regulatory classification, while classification and therefore regulatory scrutiny will increase along with the sophistication of what the software does.
Read More