If it were possible to be unaware of the general problem  of cybersecurity, the recent Sony hack with its public disclosures of  "private" e- conversations and then terroristic blackmail, following the earlier release of celebrity cloud photos, ought to have provided notice that what is electronically stored is likely to be available to those determined to have it. Moreover we know that cybersecurity can in principle also impact the function and availability  of connected systems (Sony again) and/or the information they contain. We also need to be concerned about the malicious alteration of information or disruption of device performance. You may remember the hacked insulin pump story which is already a few years old, and the story that the wireless function of Vice President Cheney's pacemaker was disabled to protect against hacking.
In this broad context it may be worth taking a look at the FDA's  now posted contents of the October 21-22, 2014 FDA workshop on  "Collaborative Approaches for Medical Device and Healthcare Cybersecurity". There is also a link there to the October 29 FDA Webinar on the Final Guidance on Premarket Submissions for Management of Cybersecurity in Medical Devices.  (If that link doesn't work, as it didn't for me, try here.) I had not been not aware that October was National Cybersecurity Awareness Month under the auspices of the Department of Homeland Security (DHS).
Read More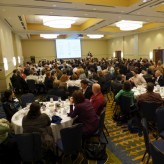 Clinical alarm safety can be hard to achieve, and once attained, a struggle to maintain. There are so many challenges:
False/positive and non-actionable alarms;
Optimizing default alarm limits across patient populations and for individual patients;
Spread out nursing units with high patient-to-nurse ratios;
Numerous alarm notification methods – audible signal amplification, monitor techs and alarm notification systems;
And the constant threat of complacency and alarm fatigue.
The inaugural Clinical Alarm Safety Symposium, November 20-21, 2014, will delve into these issues and more to provide attendees with actionable information that can be later applied in your institution to ensure continued clinical alarm safety.
Topics Include
Read More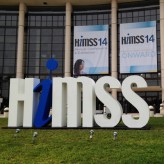 The HIMSS conference is so big, with so many different kinds of attendees and exhibitors that it's almost impossible to have one big theme for any given year. Yet the question of theme for any given HIMSS is something we all talk about. The themes one perceives are at least partially defined by our own interests and area of focus. Consequently, the #HIMSS14 themes for me were:
The shifting product and value proposition focus of many of the vendors I track,
The tension between spot solutions and enterprise solutions, and
The big buzz word of the show, population health.
Two of the market segments that I track with big shifts in value proposition were medical device data systems (MDDS) and messaging middleware. We'll talk about specific shifts in a moment, but I think it worthwhile to consider why this change in value propositions has occurred. One obvious factor among MDDS vendors is acquisitions. Capsule Tech (registration required), Accent on Integration and iSirona have all been acquired. Acquisitions are major events when everything about a company is reevaluated in an effort to wring greater value from the acquired company. The other factor I think is the growing adoption of MDDS for clinical documentation into EMRs may have caused sales growth to temper a bit, causing vendors to look beyond clinical documentation and explore for ways to add value and differentiate. Let's look at some examples.
Read More
In a few short weeks, TCBI will be holding their 5th annual Medical Device Connectivity Conference in Herndon, VA (the Washington DC metro area), November 21-22. It seems like the first conference was only a year or two ago.
Medical device connectivity, or the more fashionable (and some might say, more descriptive) term interoperability, has both changed significantly and remained the same over these past 5 years. Lots has changed on the regulatory and HIT governance front. The FDA has issued guidance on mobile medical apps, wireless medical devices, and cyber security – just this year. The FDASIA report on regulating HIT was presented to the ONC, FDA and FCC.
Read More
On June 7th, 2013 the Texas Children's Hospital and Smith Seckman Reid are producing an educational workshop on medical device connectivity. Nursing is the predominate perspective explored in this event. (One of my pet peeves is all the focus physicians get from vendor's marketing departments. Yet, when it comes to systems in hospitals, the predominate user – by far – is nursing.)
TCH, an early adopter of clinical documentation into EMRs and alarm notification, has some of the most extensive experience with medical device connectivity in the US. They're hosting and presenting at this one day seminar. Here's the blurb on the event, with links to where you can register. Besides the great content, the next best thing is the cost – free. The only downside is there's room for just 150 attendees.
Read More
Last month I spoke at the first CIS Qatar International Conference in Doha Qatar. My topic was the Importance of Enterprise Wide Medical Device Integration in CIS workflow. You can download a copy of my presentation here.
This was the first such conference in Qatar with over 1,500 people attending. The ballroom only had capacity for 1,200 so they had remote screens and audio for the 300 overflow attendees. Several hospitals in Qatar are in the process of implementing Cerner's EMR, so there is a lot of keen interest in all things EMR.
Read More