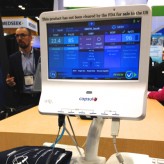 This summer, FDA proposed lifting regulations from certain currently regulated medical devices. This unprecedented policy shift targets devices known as Medical Device Data Systems (MDDS) and is intended to benefit the mobile app industry and companies like Google, Apple and others. The current regulatory burden for MDDS devices is Class I, 510(k) exempt. This means manufacturers have to follow a basic quality system (i.e., design controls) on par with ISO9001, and report instances of patient injury or death in addition to any product recalls to FDA.
The following is a guest blog post embodied in an abridged version of a comment submitted to FDA in response to their draft guidance.
Read More
I was listening today to the CE-IT Webinar on CE and HIT from the 2014 AAMI conference in Philadelphia. Much of the session reviewed what has happened over the last five years and it got me thinking about my experiences and what I've seen over the last ten years in medical device connectivity and remote monitoring. It's been an interesting ride and yet I realize there are a few basic ideas that have resonated over the years. These basic ideas are:
Specifying those requirements that are unique to my situation are where I have the most control in acquisition;
There are other players in the market who may change the landscape of what is available to me; and,
The government may require something which can constrain my options.
Read More
Except for emergent situations, no medical device is used without an order. And if not an order written to accomplish a certain clinical task for a specific patient, then "standing" orders captured in written policies and procedures to handle frequent, routine situations. Consequently, orders are one of the first workflow steps in medical device connectivity. Orders are pervasive, used in all health care delivery environments from acute care hospitals to patient's homes.
Principal ways connectivity can add value to medical device are enhancing patient safety, improving clinical efficacy and productivity. That the inappropriate use or misuse of medical devices can result in patient injury or death is not news. Proper use or misuse can start with the order. Well designed and implemented order workflow automation in a connectivity solution can impact patient safety, the efficacy and utilization of the medical device, and staff/unit productivity. Besides their own unique considerations, order workflows share many of the risks and potential benefits of other types of connectivity workflows.
Read More
Scheduling is not a workflow one normally associates with medical device connectivity. In some applications, scheduling is handled by software separate from the connectivity solution. Sometimes, scheduling is not done at all. In other applications, as we shall see, scheduling is so much a part of the broader workflow, that it's hard to recognize as a scheduling task. Two illustrative aspects of scheduling will be discussed, scheduling for diagnostic modalities and scheduling for routine patient care tasks. Because it's less understood (and frankly more interesting) we will look at scheduling for routine patient care tasks first.
Patient Care Task Scheduling
Patient care tasks encompass routine activities carried out by caregivers and/or aids. Examples of these routine tasks include vital signs collection, medication administration, bed turns (to avoid hospital acquired pressure ulcers, or HAPU), and respiratory circuit flushing (to avoid ventilator acquired pneumonia, VAP). These tasks must be completed at a predetermined frequency on a reliable basis or adverse events – including patient death – can result.
Read More
Connectivity enabled medical devices send patient data right out of the medical device to a network, be it a body area network, cellular broadband network, home or enterprise network. The network then conveys this medical device data to databases and applications that store, display and manipulate the data. When a medical device is directly attached to a patient, there is no question as to which patient the device data belongs. As soon as the data leaves the actual medical device via the serial port or a network connection, the association of that data with a particular patient is no longer obvious.
Much of the data used in establishing and maintaining patient association or patient context comes from, or is stored in, the patient management database. Patient management workflow is an important enabling component in the overall connectivity solution and key to patient context management.
It is critical to reliably know that the data from a medical device belongs to a particular patient. If the data is not associated with any patient it's worthless; should the data be associated with the wrong patient it could be deadly. When patient data from patient A is misidentified as belonging to patient B, patient A can miss out on a life saving clinical intervention that is mistakenly applied to patient B. In this example, patient A may die due to a lack of care, and patient B may be injured or die as a consequence of receiving some clinical intervention that is not needed and could be contraindicated. Consequently, safe and reliable patient association or patient context management is a foundational capability for virtually any medical device connectivity or interoperability solution.
Read More
A key feature of all connectivity solutions is a database that includes all of the patients associated with the system's medical devices. This is called a "patient census" or ADT (admission, transfer and discharge), much like the way a hospital's ADT system manages patient demographics for the hospital information system or EMR. Also referred to as patient management data, these data often include: patient name and ID number (permanent medical record number, episode of care number, or both), current assigned location of the patient, and the device associated with the patient. Depending on the application, these data can also include more operational or clinical things like assigned caregivers, admitting and/or attending physician, admitting diagnosis and service unit. It is also possible that this operational or clinical data may be stored in a different file, separate from patient management.
Some workflows or systems queue up patient information prior to arrival or application of the medical device, while others capture or generate patient demographics when the medical device is first applied to the patient. In any event, the connectivity solution must capture patient demographics that are sufficient to ensure correct patient identification and possibly additional information that relates to the use of the medical device (e.g., body surface area – or the data to calculate it, weight, etc.) Common methods to capture patient demographics are an ADT interface and a method of manual data entry. In some cases, it may be practical to capture patient demographics at the same time the medical device is associated with a patient.
This workflow is being tackled first in this series of blog posts because it is a foundation used by most connectivity workflows. Patient management workflow should be one of the last set of requirements completed because it must support all the workflows to be included in the product. What follows, in no particular order, are a number of issues and considerations that fall under the patient management category.
Read More