It is somewhat ironic that Hospira and Cerner announced a new collaboration on Hospira's infusion pumps and Cerner's EHR given that Hospira has recently had more than its share of attention with respect to asserted LifeCare and Symbiq pump cybersecurity vulnerabilities. This attention included a notice from the Department of Homeland Security as well as from the FDA (here and here). I found it of interest that despite the widespread hype around these notices there has been no recall of these pumps for the related issues. Instead advice was given to transition away from their use, mitigate the risks by some technical changes, and await Hospira's updates.
Read More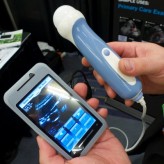 My first exposure to Mobisante and their disruptive diagnostic ultrasound system was the mHealth Summit in November of 2010. At that time, the consumerization of medical devices had been gaining traction, mostly in the physician office market. Consumerization offers medical device manufacturers advantages in lower design costs, shorter time-to-market, lower product costs, increased usability and lower training costs.
I recently got Sailesh Chutani, co-founder and CEO of Mobisante, on the phone and we discussed their product strategy — a software based diagnostic ultrasound that runs on a variety of consumer electronics platforms.
Your product is clearly a diagnostic ultrasound medical device, but one can't help but notice the rather unique design and choice of components. What were the factors driving the eventual design and appearance of your diagnostic ultrasound?
Read More
The Office of the Inspector General (OIG) of the U.S Department of Health and Human Services has released a report (pdf) outlining its 2015 work plan.  Among a host of subjects is "Information Technology Security, Protected Health Information, and Data Accuracy" with the subsection "Controls over networked medical devices at hospitals". The focus here is on the security of  patient electronic health information which is to be protected under law. Other risks associated with device networking are not addressed.
Read More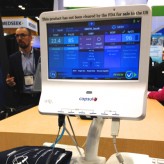 This summer, FDA proposed lifting regulations from certain currently regulated medical devices. This unprecedented policy shift targets devices known as Medical Device Data Systems (MDDS) and is intended to benefit the mobile app industry and companies like Google, Apple and others. The current regulatory burden for MDDS devices is Class I, 510(k) exempt. This means manufacturers have to follow a basic quality system (i.e., design controls) on par with ISO9001, and report instances of patient injury or death in addition to any product recalls to FDA.
The following is a guest blog post embodied in an abridged version of a comment submitted to FDA in response to their draft guidance.
Read More
I was listening today to the CE-IT Webinar on CE and HIT from the 2014 AAMI conference in Philadelphia. Much of the session reviewed what has happened over the last five years and it got me thinking about my experiences and what I've seen over the last ten years in medical device connectivity and remote monitoring. It's been an interesting ride and yet I realize there are a few basic ideas that have resonated over the years. These basic ideas are:
Specifying those requirements that are unique to my situation are where I have the most control in acquisition;
There are other players in the market who may change the landscape of what is available to me; and,
The government may require something which can constrain my options.
Read More
Except for emergent situations, no medical device is used without an order. And if not an order written to accomplish a certain clinical task for a specific patient, then "standing" orders captured in written policies and procedures to handle frequent, routine situations. Consequently, orders are one of the first workflow steps in medical device connectivity. Orders are pervasive, used in all health care delivery environments from acute care hospitals to patient's homes.
Principal ways connectivity can add value to medical device are enhancing patient safety, improving clinical efficacy and productivity. That the inappropriate use or misuse of medical devices can result in patient injury or death is not news. Proper use or misuse can start with the order. Well designed and implemented order workflow automation in a connectivity solution can impact patient safety, the efficacy and utilization of the medical device, and staff/unit productivity. Besides their own unique considerations, order workflows share many of the risks and potential benefits of other types of connectivity workflows.
Read More