I've not seen many stories on what is referred to as "universal beds," "variable acuity units," or as in this story, "universal patient floor." The idea behind all these terms is a radically different approach to care delivery. Conventional care delivery is divided into specialized areas through which patients are moved, based on their type of illness, acuity, and whether they're getting better or worse.
The vast majority of hospitals are organized like this, where their resources are divided based on (rarely met) assumptions about patient volumes. The alternative approach is to admit patients to their "on service" unit (orthopedics, oncology, med/surg, etc.) and rather than tranfering them to a higher acuity unit if their condition deteriorates, medical equipment (usually patient monitors) and staff are brought to the patient. Bringing the equipment and clinical expertise to the patients, rather than the reverse, has numerous benefits.
In addition to improving patient flow throughout the hospital and reducing patient safety errors, the universal floor has allowed staff members to spend more time with patients, making for a more comfortable patient stay.
Hat tip to StatCom's Going with the Patient Flow e-newsletter, a great source for patient flow related stories.
Read More
After a breakfast meeting, I caught Brenda Vollmer's presentation on Improving Safety Through Automation. Grand River Hospital recently installed ConnexALL to integrate WatchMate patient wandering, Siemens fire panels and Delta Controls building automation systems.
According to Brenda the implementation of ConnexALL was initiated to better align with their hospital's patient and staff safety goals.  After installation they were able to consolidate much of the management and interaction of these three event driven systems into an automated and consolidated system using ConnexALL. Specific benefits included, improved reliability, managed group notification, reduction in manual interventions, automatic alarm escalation, increased mobility (no sitting at a workstation or watching a panel), quicker decision making, and a consolidated auditing capability.
WatchMate is used for wandering, patient elopement and infant abduction. The hospital's security is based on the premise that it's easier to contain (a potential security situation) than retrieve, and that it's easier to catch someone in the act than is to try to find them after the fact. WatchMate provides notification to a user at a workstation. The hospital used  switchboard operators to monitor WatchMate, since they're usually at their desks. They had to recognize the alarm, look up who to notify, and ensure that notification is made. Now, ConnexALL automatically receives alarms, notifies appropriate staff, ensures alarm delivery (including necessary automatic retry), and escalates alarm notification when necessary. (After some googling, it seems that GlobeStar integrated with WatchMate even though the product is no longer sold by the manufacturer, Xmark.)
Read More
I'm at GlobeStar System's annual user group meeting this week, in Lisbon, Portugal. Attendance is about 150, equivalent to last year's meeting.
The messaging middleware market is transitioning from middleware to an enterprise application. GlobeStar has been in the business just over 10 years. Unlike Emergin, who started in paging messaging,  GlobeStar got their start in the 1990s integrating Austco nurse call and Nortel's Companion (the first wireless phone system in North America). Over the years, the company (and the market) have evolved from a single nurse call/phone integration to a platform supporting many different systems and devices both on the input and output sides — and incorporating workflow automation through rules, alert initiation, and escalation.
The conference kicked off with introductory presentations from David Tavares, CEO of GlobeStar; Dr Teresa Sustelo, President of Centro Hospitalar de Lisboa Central (a large multi hospital system); and Dr Miguel Correia, Regional  Secretary of  Health, Azores. During his opening remarks, Miguel Correia noted the broad applicability of improved messaging. He spoke to the extension of messaging systems to tracking and eventually orchestrating complext processes and tasks. This is a vital requirement in health care delivery.
GlobeStar's technology has been applied outside health care too. They monitor automobile painting production lines and "man down" systems in mining. Miguel Correia mentioned that they're using ConnexAll in CO2 monitoring at volcanos in the Azorres. Now they're moving further into workflow automation.
Keynote Presentation
My keynote presentation theme was, "everything is connected" and contrasted this with provider's tendency to only focus on the immediate problem — or what they think is the problem.
Putting the health care IT market aside, the point of care market is divided into 6 separate market segments: wireless phones, patient flow applications, medical device connectivity, messaging middleware, nurse call, and real time location systems (RTLS), not to be confused with indoor positioning system infrastructure vendors like Sonitor and CenTrak. For some time, buyer's haven't been able to buy a product from one of these segments without impacting one or more of the others. Connections to medical devices, and the nurse-to-patient assignment process are common points of contention.
Read More
A little over a year ago I wrote about a patient flow survey underwritten by StatCom. This past fall, StatCom published their survey for 2008 (registration required). Some interesting changes were reflected in the latest survey.
Of those surveyed (n=237, 59% of which were C-level, 19% directors) a number of findings jumped out. First, a large majority (89%) said their hospitals have poor patient flow – by itself not particularly surprising. Market adoption of bed management applications showed a 12% increase over 2007, going from 48% to 52%. It struck me that around half of the execs admitting to poor patient flow in spite of already having bought a patient flow solution (albeit a limited "bed management solution").
More than Bed Management
There are a number of conclusions one can draw from this incongruity. As noted in my post last year, a lack of solid quantitative operational performance data makes improving patient flow difficult. You have to be able to measure it before you can manage it, as they say.
How care is delivered also impacts patient flow. Critical care units (ICU, telemetry, high dependency units) are a common patient flow bottleneck. This bottleneck results from inappropriate admissions where attending physicians want monitoring for patients that don't really meet the admission criteria for the unit. Implementing variable acuity units, where equipment like patient monitors and staffing levels are allowed to float with a patient's acuity, can improve the ability to deliver the appropriate level of care without incurring the overhead found in a typical critical care bed.
Another conclusion one might draw from hospitals with bed management software that still claim poor patient flow, is that these applications have been poorly implemented. The likelihood of implementation issues is reinforced by this quote from EVP of client services for StatCom, Ben Sawyer,
Healthcare executives say overcoming behavioral patters poses the greatest challenge [to realizing patient flow improvements], followed by resistance to change…
Bad habits and laziness on the part of hospital staff would be inexcusable. But most everyone I've met in health care wants to do the right thing. They just don't want to have to do their already demanding jobs in addition to extra work created by poorly designed or configured workflow.
Finally, while many patient flow vendors have options to sell bed management by itself, but most of them have solutions that offer far more than just bed management. Frankly, bed management is the easy part.
Read More
Qualcomm released a new 3G chip that supports both EV-DO (Verizon and Sprint) and HSDPA (AT&T and T-Mobile). This will result in radio cards that will run on either technology and provide the greatest choice in selecting carriers.
The chips are apparently targeting laptops and should appear in new laptops by the second quarter of 2008.
The latest technology to join the 3G alliance is WiMax, which the Qualcomm chip (called Gobi) does not support. In the US, Sprint is the first carrier to announce plans to deploy a nation-wide WiMax wireless network.
Pictured right is Qualcomm's QSC6240 chip with integrated radio
transceiver, baseband modem and multimedia processor – together with
power management functionality into a single chip for WCDMA (UMTS)
and HSDPA handsets.
Read More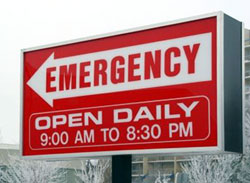 A recent survey of ED docs indicates that they believe that ED overcrowding is getting worse. From the Modern Healthcare story:
In a survey of nearly 1,500 practicing emergency physicians, more than 80% said crowded conditions in their emergency departments had increased either slightly (40.2%) or significantly (42.4%) in the past year, according to a recent poll from the American College of Emergency
Physicians. In the study, conducted from Aug. 28 to Sept. 19, nearly 67% of respondents cited "not enough staffing and/or resources" as their leading concern about patient care.Other top concerns included decreased throughput in the emergency department because of boarding patients (65.4%) and long wait times (65.3%). Also, 40.4% of physicians said their emergency-care environment has overcrowding and that access to specialty physicians and similar practice issues is a concern, but not yet a crisis.
Of those who responded, 703, or about 47%, said they had experienced a patient suffering as a result of crowded emergency rooms, while 200 said they had experienced a patient death for this reason at some point.
First off, while quantitative percentages are quoted extensively, this is really just a survey on the opinions of emergency room physicians. As noted a couple days ago, actual operational data is much harder to come by. Certainly the emotional assessment of front line physicians on ER overcrowding has value, but it is certainly not scientific.
Caveats out of the way, it is likely that ED overcrowding is indeed getting worse. Certainly there's no doubt emergency room volumes are increasing. The major cause of this overcrowding, "not enough staffing and/or resources," is frustratingly vague – but then the survey is based on opinion rather than operational data. Are they talking about staffing and resources in the ED, outside the ED in downstream areas, or both?
The survey hints rather strongly at both the causes and potential solutions to reduce overcrowding. Overcrowding due to boarding patients in the emergency department was noted as the second major cause. Boarding patients – parking them on gurneys in hallways while they await a "soon to be available" inpatient bed – results from down stream patient flow bottlenecks. Building a bigger ED won't help with that problem.
Another story, noted by FierceHealthcare, describes a 2006 study showing that increasing ICU beds reduces ambulance diversion and increases hospital revenue. The study, done at Oregon Health and Science University Hospital and published in the Annals of Emergency Medicine (abstract), includes some interesting data.
Based on 10,301 adult ED patients in 2002 and 2003, the average hospital revenues per patient were $4,492
Each hour spent on diversion cost the hospital $1,086 in lost revenue
An increase of staffed ICU beds from 47 to 67 beds reduced time on diversion by 63%
The hospital gained $175,000 in additional monthly revenues through reduced time on diversion
Since critical care and telemetry represent the most common patient flow bottlenecks that result in ED overcrowding and diverts, the outcome of this study is expected. You too can calculate the cost per hour of revenue lost due to emergency room diversions – to provide one more reason why those units that won't take your patients should buck up and start carrying their weight.
Solving your ambulance diversion problem by adding ICU beds is perhaps not the best approach (but it is by far the most expensive). OHSU is sort of ICU-crazy, with a 1:2 ratio of "special care" beds to med/surg beds (155 critical care beds to 311 med/surg beds). This compares with another Portland metro hospital, Providence St Vincent. At virtually the same number of beds (466 for OSHU, 450 for St V's) St Vincent as 7 critical care beds for every 54 med/surg bed (94 critical care beds to 356 med/surg beds).
Implementing variable acuity units at your hospital can go a great way to eliminating critical care patient flow bottlenecks. The capital cost to implement variable acuity units (or universal beds) is much lower than building more ICU beds. The rub is the management effort to retool the impacted nursing units and getting buy-in (and compliance) from your medical staff. But then, nothing is easy.
As an aside, using the American Hospital Directory (found in the Resources tab under Important Web Links), I created a spreadsheet that compares beds, LOS, total patient days, gross patient revenue, etc. While there are many differences between the hospitals, like LOS, it is interesting to note that St Vincent's revenue is 4 times the gross patient revenue at OHSU.
UPDATE: I tried to find an email address for the principal investigator, John McConnell, for the study I quote above, but was unsuccessful. If you know John, I'd love to chat with him about his study (not to mention all those ICU beds). Thanks!
Read More