Can you believe it? Connectivity started in the 1980s, and it's taken over 25 years for the first medical device connectivity conference to be held. I am fortunate to be serving as the program chair for the conference, responsible for the topics covered and finding speakers (you can download a program here — pdf). Unlike other conferences that address connectivity as one of many issues, this meeting is all about medical device connectivity. This is the first of what will be an annual meeting delving into connectivity in depth, tracking changes over time.
Here's an overview of the agenda:
Define and frame medical device connectivity for this event
Industry standards
Regulatory issues
"Systems of systems" patient safety issues
A review of the real costs of connectivity
Day two is divided into three tracks:
Infrastructure, especially converging medical device and enterprise networks
Connectivity solutions, a review of the most common connectivity applications (it's not just about EMR integration)
Clinical and workflow impacts of connectivity
Friday afternoon, there are two great post-conference workshops. One workshop delves into Distributed Antenna Systems (DAS), describing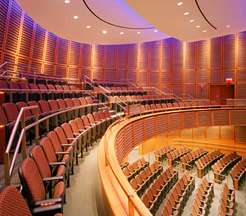 best practices for the selection and implementation of DAS. The second workshop is for providers and manufacturers getting ready for IEC 80001. You are getting ready, aren't you? This workshop details the standard's requirements with special focus on the risk management process that's at the heart of IEC 80001.
The conference well be September 10 and 11 (Thursday and Friday) in Boston, at the Joseph B Martin Conference Center at Harvard Medical School. This is a pretty snazzy venue, as you can see by the photo.

Read More
The IHE North America kicked off their Connectathon yesterday. This is the second year (?) that the Patient Care Device domain (PCD) has had something to show in the Interoperability Showcase at HIMSS.
I chatted with Todd Cooper via Skype and received the following update:
As background, there are approximately 390 engineers from 70 companies and 2 university groups connecting 136 different systems. On the PCD side, we have the following groups participating:

B.Braun
CapsuleTech
Draeger
Epic
GE Healthcare
LiveData
Philips
SpaceLabs
Welch Allyn

The profiles being tested are primarily focused on device data gateway reporting to enterprise applications (this fall the PnP profile will start active testing), and includes the basic PCD-01 message from last year (an HL7 v2.5 message with ISO/IEEE 11073 semantics – a consistent message format containing consistent device-related semantics). Also there is a profile for how these "gateway" systems handle patient demographics data and bind patient ID's to the data streams, as well as use an HL7 Publish/Subscribe mechanism for configuring which information should be reported.

As for process, each vendor has a set of stand-alone, one-on-one and one-on-many tests. Once they think they have things working and are ready for verification, they call over one of the Monitors (independent observers) who observe each step of the test, and if all works, approve the verification or if they don't work … have the companies go back and figure out what's wrong, etc. For example, earlier this afternoon two companies thought they were ready. OK – "change that parameter" … <waiting … waiting … waiting> "Hmmm…didn't ever change on the other side … Call me when you're ready!"

Reps from IHE and the PCD are discussing how devices will be integrated into the upcoming HIMSS '08 IHE Showcase. Including medical devices for the first time last year clearly brought out the need to move from the cold I.T. world to include the clinical environments that they are supposed to be supporting … hmmmm…go figure! Last year PCD was in the Showcase, but mostly a separated area. This year, they will be integrated to the overall story line.
Most of the vendors participating in this year's PCD Connectathon have products in markets where verified IHE support is a key part of the vendor selection process. All of the current participants recognize that it is only a matter of time until such requirements will be applied to patient monitors, infusion pumps, ventilators and other types of medical devices.
Vendors who wait much longer to get involved in the PCD will end up implementing connectivity solutions defined by other vendors, and will have a growing body of work to "catch up" to vendors who jump in early.
Providers are encouraged to participate as well — unless you're okay with everything designed to convenience vendors rather than users. So far, Kaiser and Partners have been the only provider organizations to participate.
Pictured at top is a view of GE's workstation at the Connectathon, courtesy of Todd Cooper.

Read More