I've not seen many stories on what is referred to as "universal beds," "variable acuity units," or as in this story, "universal patient floor." The idea behind all these terms is a radically different approach to care delivery. Conventional care delivery is divided into specialized areas through which patients are moved, based on their type of illness, acuity, and whether they're getting better or worse.
The vast majority of hospitals are organized like this, where their resources are divided based on (rarely met) assumptions about patient volumes. The alternative approach is to admit patients to their "on service" unit (orthopedics, oncology, med/surg, etc.) and rather than tranfering them to a higher acuity unit if their condition deteriorates, medical equipment (usually patient monitors) and staff are brought to the patient. Bringing the equipment and clinical expertise to the patients, rather than the reverse, has numerous benefits.
In addition to improving patient flow throughout the hospital and reducing patient safety errors, the universal floor has allowed staff members to spend more time with patients, making for a more comfortable patient stay.
Hat tip to StatCom's Going with the Patient Flow e-newsletter, a great source for patient flow related stories.
Read More
A little over a year ago I wrote about a patient flow survey underwritten by StatCom. This past fall, StatCom published their survey for 2008 (registration required). Some interesting changes were reflected in the latest survey.
Of those surveyed (n=237, 59% of which were C-level, 19% directors) a number of findings jumped out. First, a large majority (89%) said their hospitals have poor patient flow – by itself not particularly surprising. Market adoption of bed management applications showed a 12% increase over 2007, going from 48% to 52%. It struck me that around half of the execs admitting to poor patient flow in spite of already having bought a patient flow solution (albeit a limited "bed management solution").
More than Bed Management
There are a number of conclusions one can draw from this incongruity. As noted in my post last year, a lack of solid quantitative operational performance data makes improving patient flow difficult. You have to be able to measure it before you can manage it, as they say.
How care is delivered also impacts patient flow. Critical care units (ICU, telemetry, high dependency units) are a common patient flow bottleneck. This bottleneck results from inappropriate admissions where attending physicians want monitoring for patients that don't really meet the admission criteria for the unit. Implementing variable acuity units, where equipment like patient monitors and staffing levels are allowed to float with a patient's acuity, can improve the ability to deliver the appropriate level of care without incurring the overhead found in a typical critical care bed.
Another conclusion one might draw from hospitals with bed management software that still claim poor patient flow, is that these applications have been poorly implemented. The likelihood of implementation issues is reinforced by this quote from EVP of client services for StatCom, Ben Sawyer,
Healthcare executives say overcoming behavioral patters poses the greatest challenge [to realizing patient flow improvements], followed by resistance to change…
Bad habits and laziness on the part of hospital staff would be inexcusable. But most everyone I've met in health care wants to do the right thing. They just don't want to have to do their already demanding jobs in addition to extra work created by poorly designed or configured workflow.
Finally, while many patient flow vendors have options to sell bed management by itself, but most of them have solutions that offer far more than just bed management. Frankly, bed management is the easy part.
Read More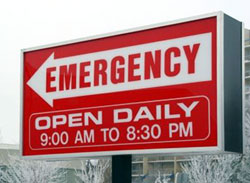 A recent survey of ED docs indicates that they believe that ED overcrowding is getting worse. From the Modern Healthcare story:
In a survey of nearly 1,500 practicing emergency physicians, more than 80% said crowded conditions in their emergency departments had increased either slightly (40.2%) or significantly (42.4%) in the past year, according to a recent poll from the American College of Emergency
Physicians. In the study, conducted from Aug. 28 to Sept. 19, nearly 67% of respondents cited "not enough staffing and/or resources" as their leading concern about patient care.Other top concerns included decreased throughput in the emergency department because of boarding patients (65.4%) and long wait times (65.3%). Also, 40.4% of physicians said their emergency-care environment has overcrowding and that access to specialty physicians and similar practice issues is a concern, but not yet a crisis.
Of those who responded, 703, or about 47%, said they had experienced a patient suffering as a result of crowded emergency rooms, while 200 said they had experienced a patient death for this reason at some point.
First off, while quantitative percentages are quoted extensively, this is really just a survey on the opinions of emergency room physicians. As noted a couple days ago, actual operational data is much harder to come by. Certainly the emotional assessment of front line physicians on ER overcrowding has value, but it is certainly not scientific.
Caveats out of the way, it is likely that ED overcrowding is indeed getting worse. Certainly there's no doubt emergency room volumes are increasing. The major cause of this overcrowding, "not enough staffing and/or resources," is frustratingly vague – but then the survey is based on opinion rather than operational data. Are they talking about staffing and resources in the ED, outside the ED in downstream areas, or both?
The survey hints rather strongly at both the causes and potential solutions to reduce overcrowding. Overcrowding due to boarding patients in the emergency department was noted as the second major cause. Boarding patients – parking them on gurneys in hallways while they await a "soon to be available" inpatient bed – results from down stream patient flow bottlenecks. Building a bigger ED won't help with that problem.
Another story, noted by FierceHealthcare, describes a 2006 study showing that increasing ICU beds reduces ambulance diversion and increases hospital revenue. The study, done at Oregon Health and Science University Hospital and published in the Annals of Emergency Medicine (abstract), includes some interesting data.
Based on 10,301 adult ED patients in 2002 and 2003, the average hospital revenues per patient were $4,492
Each hour spent on diversion cost the hospital $1,086 in lost revenue
An increase of staffed ICU beds from 47 to 67 beds reduced time on diversion by 63%
The hospital gained $175,000 in additional monthly revenues through reduced time on diversion
Since critical care and telemetry represent the most common patient flow bottlenecks that result in ED overcrowding and diverts, the outcome of this study is expected. You too can calculate the cost per hour of revenue lost due to emergency room diversions – to provide one more reason why those units that won't take your patients should buck up and start carrying their weight.
Solving your ambulance diversion problem by adding ICU beds is perhaps not the best approach (but it is by far the most expensive). OHSU is sort of ICU-crazy, with a 1:2 ratio of "special care" beds to med/surg beds (155 critical care beds to 311 med/surg beds). This compares with another Portland metro hospital, Providence St Vincent. At virtually the same number of beds (466 for OSHU, 450 for St V's) St Vincent as 7 critical care beds for every 54 med/surg bed (94 critical care beds to 356 med/surg beds).
Implementing variable acuity units at your hospital can go a great way to eliminating critical care patient flow bottlenecks. The capital cost to implement variable acuity units (or universal beds) is much lower than building more ICU beds. The rub is the management effort to retool the impacted nursing units and getting buy-in (and compliance) from your medical staff. But then, nothing is easy.
As an aside, using the American Hospital Directory (found in the Resources tab under Important Web Links), I created a spreadsheet that compares beds, LOS, total patient days, gross patient revenue, etc. While there are many differences between the hospitals, like LOS, it is interesting to note that St Vincent's revenue is 4 times the gross patient revenue at OHSU.
UPDATE: I tried to find an email address for the principal investigator, John McConnell, for the study I quote above, but was unsuccessful. If you know John, I'd love to chat with him about his study (not to mention all those ICU beds). Thanks!
Read More
Reader Geoff T. sent this link to a story in Healthcare Design magazine on a new heart hospital at Ohio State University Medical Center. While I have mixed feelings about specialised hospitals, I was encouraged by the broad adoption of variable acuity units. For this crew, building a new hospital just like the old hospital was not an option.
Simply building a new facility would not be enough, the team realized—a change in care processes would have to accompany the changes in building structure and unit/facility design. In line with this, the traditional multiple-transfer setting—where patients were transported to different units based on the severity of their illnesses—was eliminated in favor of the acuity-adaptable/universal bed healthcare delivery concept. In this model, the required level of care is brought to patients while they remain in one room throughout their entire hospitalization.
The jargon related to this care delivery model is varied and not well defined. Terms include "flexible monitoring," "acuity adaptable," "variable acuity," and (my least favorite) "universal beds." Unlike the other terms, "universal beds" implies the ability to scale patient acuity all the way up to a full fledged ICU room. The cost to supply power, gases, suction and other infrastructure to a room for the small slice of time it will support ICU level care is considerable – and of course creating rooms like this is only practical with new construction. The rooms described in this story are in fact universal beds that can flex to provide ICU level care.
The rationale for choosing this care delivery model over conventional nursing units divided along patient acuity levels is described below:
As noted, a key attribute of the UB [universal bed] care delivery model is the elimination of multiple patient transfers to various levels of care. An acuity-adaptable room significantly reduces such inefficiencies; it also enhances patient safety, since the level of care changes rather than the patient's location. In the typical setting, a patient transfer from an intensive care setting to a telemetry floor generally involves seven to nine staff members from various clinical and ancillary areas; it costs about $500 and takes an average of almost four hours. With this large number of staff involved, the potential for miscommunication is high and can result in medical errors. Reducing or eliminating transfers significantly decreases the potential for medication errors, lost belongings, and patient confusion or unease.In addition, the RHH [Ross Heart Hospital] was designed to minimize time spent on transfers from procedural areas to patient rooms. The procedural areas are located on the same floor as the corresponding patient care area, creating mostly horizontal connections rather than elevator transports, thus saving time and reducing the costs associated with procedure-to-recovery transfers (figure 4).
The universal rooms were also strategically designed to minimize transfers required for diagnostic tests. Rooms are large and private, and room-darkening window shades allow the performance of portable tests on the patient floors. A large number of echocardiograms and chest x-rays are now being done at bedside with the goal of increasing the portability of noninvasive testing modalities.
An overlooked cost of patient transfers is the resulting addition of one day to the patient's length of stay. Reduced transfers can translate into a significant reduction in a hospitals average length of stay (ALOS), free up capacity and minimizing the need to fill open RN staff positions.
The good news about variable acuity units is that you don't have to build a new hospital to implement and benefit from this care delivery model. Implementing variable acuity support that includes patient monitoring and ventilators – and provides a level of care just short of the ICU – requires the right medical devices, a wireless infrastructure to support those devices, new policies and procedures in each unit to accommodate higher acuity care (like titrating drugs), and training for your nursing staff. The costs are much lower as soon as you forgo flexing all the way up to ICU levels, but implementation issues are the same:
Using the UB care-delivery model does not mean that any nurse can care for any cardiac patient. Nurses, like physicians, tend to practice in a specialty they enjoy. Nursing staff specializing in a certain clinical area are generally able to provide more efficient, higher-quality care and are able to troubleshoot more rapidly because of their expert knowledge in that specialty.At RHH, like patients are aggregated on each of the three 30-bed patient care floors. One floor supports medical cardiology and vascular patients, another cares for cardiac surgery patients, and the third provides care for cardiac cath lab/electrophysiology patients. Recovering outpatient cardiac cath lab patients are intermingled with the inpatient population because their recover processes are clinically similar. Thus, instead of recovering in a busy, hectic, and crowded bay within a procedural recovery area, cardiac cath lab patients are able to enjoy the comforts of a universal room—a private room that can accommodate family members while offerin a quiet, healing environment.
Another wrinkle in supporting variable acuity units is the need for surveillance and alarm notification. Conventional central stations, war rooms, remote annunciators, hallway lights, and message panels are problematic. The big issues are cost versus alarm fatigue, and the various ways safe and cost effective care can be provided. Another issue is the physical layout of the unit. The Ross Heart Hospital adopted another innovation, decentralized nursing units.
RHH elected to place nursing documentation stations—with access to electronic patient information, supplies, and medications—in the patient rooms themselves (figure 5). Surveys maintain that nurses often work from memory when patient records are not easily available, thus increasing the chance for medical error. The decentralized stationsensure that staff use the patients' records with every care activity and eliminate the chaos and noise associated with a central nursing station.This practice has been proven to reduce patient stress levels and facilitate healing. RHH patients state that although the unit is quite large, it is reasonably free of noise. Moreover, OSUMC believes that decentralized nursing documentation
Decentralized nursing units have many advantages, but one of the problems is that current patient monitoring systems are ill suited for this type of layout. Placing multiple central stations at each decentralized unit takes up a lot of space and is prohibitively expensive. There is one vendor who has announced a solution to the problem, but in general, hospitals will have to demand new products that better fit this rapidly growing approach to nursing units.
Here's a thought experiment for you. Look at your ADT data and figure out your average transfers per admission. Cut those transfers by 80% and apply a one day LOS per reduced transfer. Would the "change pain" of implementing variable acuity units impact your hospital? Perhaps off-load all those inappropriate admissions in your critical care areas and telemetry? Reduce the time spend in diversion? Do you have (or can you generate) demand for those new patient days? How much would that increase your revenue?
If you'd like some help with answering these questions, and perhaps taking the variable acuity plunge, let me know. Pictured right is the high acuity configuration of the new Ross Heart Hospital's acuity adaptable rooms.
Read More
Critical care units (CCUs) are an important part of any hospital. Typically, between 8% and 12% of a hospital's beds are devoted to some form of critical care (about 3% outside the US), which consumes half of an institution's direct patient care budget; CCUs are expensive.
A standard indicator for hospital patient flow problems are ED diverts and boarding. In 2004 46% of all hospitals reported going on ambulance diversion; that percentage goes up to 69% for urban hospitals. Similar data for 2001 shows the rates of diversion at 62% and 79%; this represents some improvement, but not much. The leading cause of this patient flow backup: lack of critical care beds (2001 and 2004, 43% and 39% respectively). While the number of ICU beds grew 26% between 1985 and 2000, the problem still exists.
In addition to constrained capacity, there is also a problem with over utilization. Critical care areas see a high degree of inappropriate admissions that take beds away from truly critically ill patients. In one study, "11% to 34% of patients admitted to the ICU in the past two quarters alone did not meet the severity and intensity measures, justifying admission to the ICU." An inappropriate admission to ICU, being the most expensive, can produce significant unreimbursed costs to the hospital if the payer deems the admission inappropriate. With capitated patients, a hospital gets just so much per admission. Even if the patient met criteria for admission, it is prudent to treat the patient with what he/she needs, no more and no less. An ICU admission might be too much. In most cases, these inappropriate admissions end up in CCUs (especially Telemetry and stepdown units) because they require patient monitoring or a nurse-to-patient ratio that is higher than that available in general care areas.
It is unlikely that hospitals will build their way out of this problem. Well over half of US hospitals have negative patient care margins, and ICUs are expensive to build and deliver care ($2,674 per patient day).
The "acuity adaptable" room is a concept that has been gaining ground as a strategy to relieve pressure on critical care areas. Health Facilities Magazine has an article on trends in CCU construction and leads off with a discussion of variable acuity or universal beds. The term "universal bed" (universal room or universal unit) is traditionally defined as private patient rooms equipped to the standards required for critical care. Here's an explanation from the article:
Universal room construction involves equipping private patient rooms to the standards required for critical care, under the assumption that as the patient recovers, he or she will be permitted to stay in the same room while the trained staff rotate. Nurses' stations are positioned immediately outside the patient room with patient viewing windows, electronic charting and digital information–one nurses' station per two private patient rooms.
This I think is misguided. Building out a meaningful percentage of patient rooms in this way would create a greater number of expensive ICU-type rooms that would only be used as critical care rooms for a portion of the time they are in use. If the nurse-to-patient ratio is maintained at 1:1 or 1:2, HPPD (hours per patient day) costs would also equal the ICU. These rooms could be even more expensive than traditional ICU rooms if current "state of the art" recommendations of additional nursing stations and amenities for family members are included.
Nor is the implementation of "universal beds" simple to implement:
Though architects and administrators have embraced the acuity-adaptable configuration in many settings, it is most appropriate in critical care, where the desired nurse-to-patient staffing ratio is maintained at 1:1 or 1:2. It is far less efficient in medical-surgical nursing units, where the nurse-to-patient ratio may be 1:4 or 1:5.
The challenge for providers is successfully staffing the acuity-adaptable model. Critical care nurses require specialized training and possess specialized skill sets. What happens when one of the two critical care patients becomes less acute? The critical care nurse, positioned outside two universal rooms, is now faced with caring for one critically ill patient and one lower acuity patient, which is inefficient and expensive.
The description above seems to recommend an approach of providing a greater than necessary level of care in the most expensive setting. This seems a non-starter given today's health care costs, the state of hospital finances, reimbursement pressures, and changing patient
demographics.
What is needed is the creation of true variable acuity units that are different from both critical care and med/surg units. The guiding philosophy of such a unit is to deliver the appropriate level of care in the least expensive environment. This approach preserves both patient safety and hospital finances. Typical variable acuity unit policies include:
Critical patients (that meet admissions criteria) continue to be cared for in ICUs
The variable acuity unit replaces some or all traditional Telemetry, high dependency and stepdown units
No special construction or build-out is required, but appropriate patient surveillance and alarm notification is required
Admissions requirements are defined for the variable acuity unit, and revised for other units (and enforced!)
Variation of patient acuity supported by a variable acuity unit ranges from a high dependency or stepdown unit to general care
A nursing staff with a broader mix of skills is required, i.e., some critical care nurses and some med/surg nurses
Patient assignments and nurse-to-patient ratios will be driven by either patient acuity or workload and vary by patient
Multi parameter patient monitoring is available in the unit
Appropriate meds and therapies (IV, vents, etc.) are available on the unit
The goals of the variable acuity unit are to:
Allow patients that do not require 1:1 or 1:2 nursing care to bypass CCUs
Allow patients to be discharged from the ICU more quickly and placed in an appropriate and lower cost setting
Reduce readmission to the CCUs when patients require greater clinical surveillance or intervention
Provide greater continuity of care, as patients are transferred less between "specialized" units
Reduce LOS, mostly as a consequence of fewer transfers
Free up CCU beds and significantly reduce ED diversions and boarding
This past May, an editorial in the Am Journal of Critical Care called for fewer ICU beds in the US, observing that many patients who are placed in an ICU to receive a little extra care and observation could receive the care they need in a unit with a lower but appropriate level of management. A variable acuity unit is a thing unto itself, not an ICU with lower acuity patients nor a med/surg unit with patient monitors. The creation of a flexible acuity unit, as opposed to a universal unit, provides significant financial and clinical benefits.
Read More