Medical device manufacturers in markets that have managed to resist creating connectivity solutions are facing increased pressure from providers adopting EMRs. I mean, what's the use of automating the EMR if users have to write down numbers read from medical device displays and then manually type them into the EMR? That's certainly not "automation." This feature is already a required and necessary feature in some device markets, and rapidly becoming a necessity in many other device markets.
Manufacturers in this situation (needing an interface to EMRs for clinical documentation) often come to me with a plethora of questions. Before we get started, let's frame the discussion. In this post you will be introduced to a framework for clinical documentation connectivity. I do not get into details on product design or features. Rather we look at a basic framework and external factors that come to bare on any manufacturer contemplating a connectivity feature for their products. What follows is a sketched in foundation or starting point for manufacturers to use to plan for and implement what is probably the most basic connectivity application.
Let's run through the basics.
What are the basic components of a clinical documentation solution for a medical device?
Read More
This is the second post as part of an ongoing series that discusses the market trends that are affecting the evolution of medical device connectivity (MDC) technology. I received some good comments from my previous post – please consider sharing your thoughts, ideas, and experiences.
The second trend I'd like to discuss is the shift towards patient safety as one of the key market drivers for connectivity. It is probably not news to anyone that patient safety has become one of the key drivers for many healthcare IT initiatives. But what is the relationship between patient safety and MDC? Ever since the often referenced IOM report, To Err is Human: Building A Safer Health System, hospitals and vendors alike have increased their focus on driving towards significant reductions in medical errors. The industry as a whole has made great strides, but still lots of work remains.
With device connectivity, my experience has been that for at least the past 15+ years, the key driver has been making the nurse more efficient by eliminating the manual transcription of device data into the patient's chart. One of the related benefits is a more come complete and legible patient record. However, one could argue that the more legible patient record could be achieved if the vital signs from medical devices were simply typed into the charting application manually (something that many hospitals are actually doing today). So I believe that the nursing efficiency argument holds as the primary driver – but that is starting to be challenged by the focus on patient safety as it relates to connectivity.
Read More
Can you believe it? Connectivity started in the 1980s, and it's taken over 25 years for the first medical device connectivity conference to be held. I am fortunate to be serving as the program chair for the conference, responsible for the topics covered and finding speakers (you can download a program here — pdf). Unlike other conferences that address connectivity as one of many issues, this meeting is all about medical device connectivity. This is the first of what will be an annual meeting delving into connectivity in depth, tracking changes over time.
Here's an overview of the agenda:
Define and frame medical device connectivity for this event
Industry standards
Regulatory issues
"Systems of systems" patient safety issues
A review of the real costs of connectivity
Day two is divided into three tracks:
Infrastructure, especially converging medical device and enterprise networks
Connectivity solutions, a review of the most common connectivity applications (it's not just about EMR integration)
Clinical and workflow impacts of connectivity
Friday afternoon, there are two great post-conference workshops. One workshop delves into Distributed Antenna Systems (DAS), describing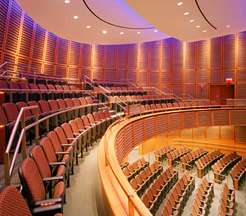 best practices for the selection and implementation of DAS. The second workshop is for providers and manufacturers getting ready for IEC 80001. You are getting ready, aren't you? This workshop details the standard's requirements with special focus on the risk management process that's at the heart of IEC 80001.
The conference well be September 10 and 11 (Thursday and Friday) in Boston, at the Joseph B Martin Conference Center at Harvard Medical School. This is a pretty snazzy venue, as you can see by the photo.
Read More
The Big Picture
Medical device interoperability and standardization is a hot topic, and with the efforts surrounding adoption of the 11073 standard, IHE and patient care device frameworks, and the drive towards implementing electronic medical records, the field has become essential to the future of the healthcare industry. Yet, as we look to realign medical devices and their communication mechanisms away from proprietary intercommunication and towards standards-based communication, we should think "outside the box" to other fields, technologies and technical disciplines for inspiration and guidance on best practices. Perhaps an obvious one that comes to mind is the USB 2.0 standard. The simple idea being proffered is the ability to plug a medical device into a computing platform and have it recognized and joined automatically to the operating system. While we are a long way from this vision as a universal standard, there is ample evidence to demonstrate its feasibility in the existing Windows and MAC OS architectures today.
Driver Bundling
Key to the seamless and universal use and acceptance of USB devices is the bundling of device drivers delivered as part of base operating systems. When a new device is developed, it could be adopted for incorporation within the base Windows and Mac operating system environments. However, even before that adoption, manufacturers of these drivers could consider bundling them as part of hardware delivery. The drivers could be installed at run time or prior to usage and, from there, no other special attention would be required: attaching a medical device to an accompanying computing platform would automatically result in that device "joining" with the base operating system. The challenge, of course, is how best to develop drivers that support consistent and common access to data. While the common Patient Care Device (PCD) framework fosters such an idea, it has yet to be realized as a universal standard.
One theme embodied by the IHE medical device connectivity demonstrations featured at HIMSS 09 (pdf) in Chicago was that of following a patient from admission through a critical care room, in which patient information was gathered at the bedside from and to the various medical devices present there, including infusion, bed, monitor, and mechanical ventilation. The ability to collect and integrate these data into a bedside electronic health record was accomplished in concert among the several medical device manufacturers through access to the communication frameworks peculiar to the many vendors participating in the demonstration. The bundling of device drivers and publishing of a common syntax required to communicate with the various devices could provide a starting point for enabling universal biomedical device communication.
Read More
Connectologists rejoyced this month (September, 2008) when Healthcare Informatics magazine published Biomed Joins the Party – Savvy CIOs are considering biomedical devices in their overall strategic plans (link). To my knowledge, this is the very first cover story in a major health care IT magazine about medical device connectivity. As an aside, diagnostic imaging pubs have been writing about connectivity in their market for many years.
Contributing editor, Mark Hagland, casts the drama that is connectivity as "two worlds colliding," – the worlds of IT and biomedical engineering. He builds his story around the integration of medical devices to support EMR charting. In fact, medical device connectivity started almost 20 years ago with the integration of Apple IIs and IBM PCs (not to mention a few funky HP mini computers) in diagnostic areas like the cath lab and in the ICU. Probably the biggest wave of connectivity to date has been PACS (picture archiving and communications systems) and the adoption of DICOM. Now the health care industry is zeroing in on connectivity at the point of care with patient monitors, smart infusion pumps, point of care testing, and yes, EMR integration (by far the most expensive point of care application).
Using Trinity Health as his template, Hagland describes an ideal approach to medical device connectivity: the involvement of IT, clinicians, and biomedical engineering.  The 40 odd hospitals in Trinity's system have over 110,000 medical devices. Trinity has used this approach to more effectively manage these colliding worlds:
The biomed integration initiative actually began several years ago in an effort to cut costs, Fierens [the hospital exec over Biomed] reports. But as Project Genesis [their EMR project] has moved ahead, and as the technology in the biomed equipment area has advanced, the broader goals of improved care quality and workflow have come more fully into focus, he says. The biggest challenge, says Fierens, is that "you've got to balance the economics with the infrastructure and support, along with the service element, along with the clinical outcome you're trying to support."
The route to medical device connectivity for hospitals is neither clear or straightforward.
Read More